Skillet Creamed Street Corn Chicken
So delicious with rice, avocado, and tortillas on the side for soaking up all that creamy corn sauce!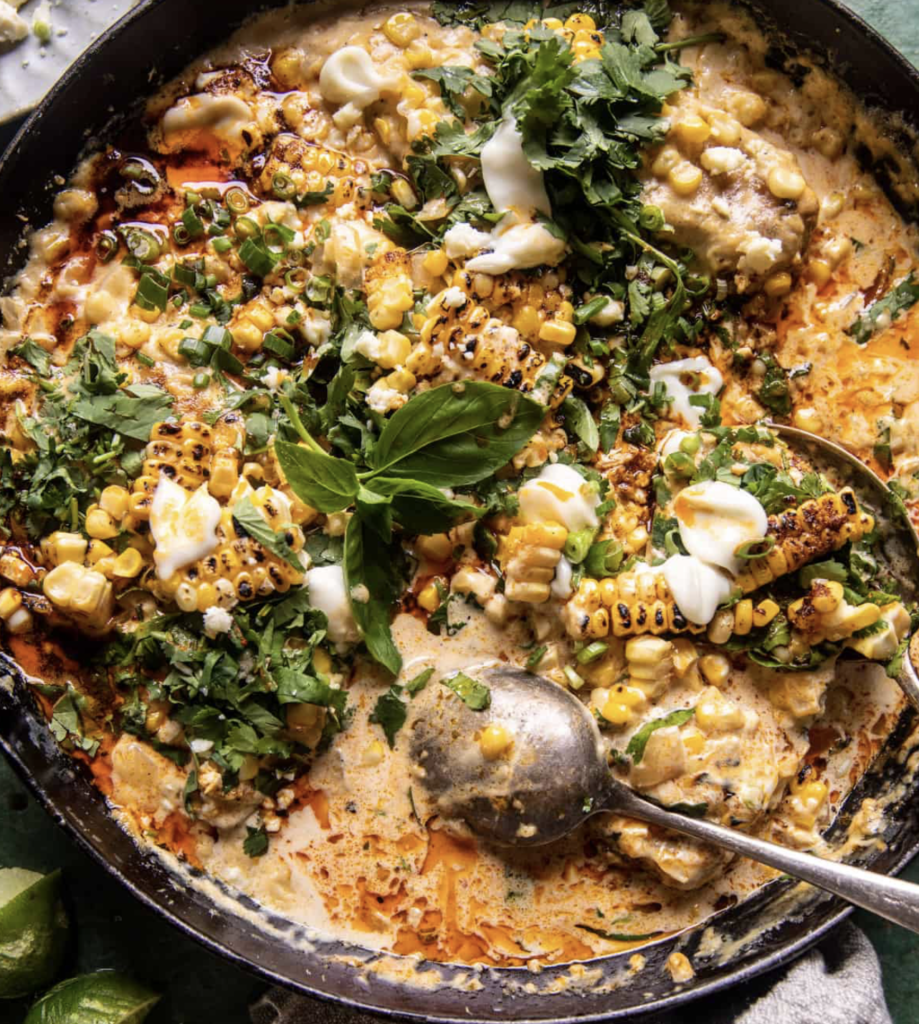 Ingredients
1 large egg, beaten
1/4 cup all-purpose flour or gluten-free flour
6 chicken breast cutlets
kosher salt and black pepper
3 tablespoons extra virgin olive oil
2 tablespoons chili powder
2 teaspoons smoked paprika
1/2-2 teaspoons cayenne pepper, to your taste
1 yellow onion, chopped
2 cups corn (3-4 raw)
2 cloves garlic, chopped
3 ounces cream cheese, at room temperature
4 tablespoons salted butter
1 cup whole milk or heavy cream
1/3 cup plain Greek yogurt or mayo
2 tablespoons fresh lime juice
3/4 cup crumbled cotija cheese
1 ear grilled corn, kernels removed from the cob
1/4 cup fresh cilantro, chopped
Instructions
Place the egg and flour in separate shallow bowls.
Season the chicken with salt and pepper.
Dredge both sides of the chicken through the egg, and then through the flour, tossing to coat. Place the chicken on a plate.
Mix the spices. In a bowl, combine the chili powder, paprika, cayenne, and a pinch of salt.
Heat 2 tablespoons of olive oil in a skillet over medium-high heat. 
Add the chicken and cook on both sides until golden, about 5 minutes per side. Remove the chicken from the pan. 
Add 1 tablespoon olive oil and the onion to the same skillet. Cook until soft, 5 minutes.
Add the corn, garlic, 2 teaspoons of the spice mix, and season with salt and pepper. Cook until the corn is softened, 5 minutes.
Reduce the heat to low.
Mix in the cream cheese until melted and creamy.
Stir in the milk and 1/2 cup water.
Slide the chicken into the sauce. Cook until warmed through, 5 minutes. 
In a separate skillet, melt the butter until golden.
Mix in 3 teaspoons of the spice mix, plus a pinch of chili flakes and salt.
Cook another minute, then remove from the heat.
Mix the Greek yogurt/mayo and lime juice with a pinch of salt.
Remove the skillet from the stove.
Serve the chicken and corn topped with grilled corn. Drizzle over the spicy butter and the Greek yogurt/mayo salt. Sprinkle on the crumbled cotija cheese and cilantro. 
Original recipe available here.