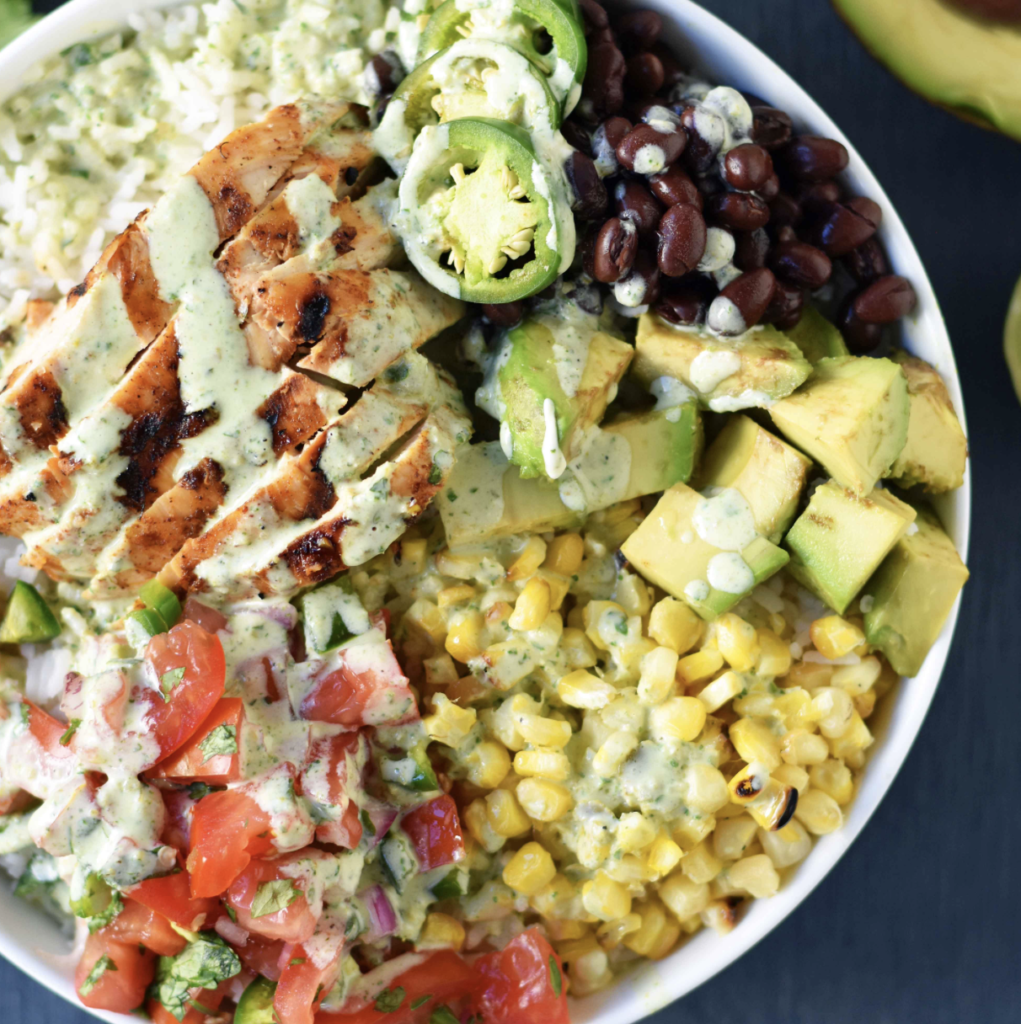 Chili Lime Chicken:
1 lb. Chicken Breast
1/4 cup Olive Oil
2 Limes (juiced)
1 teaspoon Chili Powder
1/2 teaspoon Cumin
1 teaspoon Salt
Pico de Gallo:
3-4 Roma Tomatoes
1/4 cup White or Red Onion (finely diced)
1/4 cup Cilantro
1/2 Jalapeno (diced)
1 teaspoon Salt
Chuy's Creamy Jalapeno Cilantro Dip Dressing Ingredients:
3/4 cup Sour Cream
3/4 cup Mayonnaise (if you prefer less mayonnaise, you may use 1 cup of sour cream and ½ cup mayonnaise)
1 packet 1 oz Dry Ranch Dip
1/4 teaspoon Garlic Salt
1/2 cup Cilantro (tightly packed, may add more for fresh flavor)
3/4 cup Pickled Jalapenos (plus juice from a jar (may add up to 1 cup depending on heat preference)
1/2 cup Buttermilk (if you want it to be thinner, add more buttermilk)
2 teaspoons Fresh Lime Juice optional
Additional Bowl Ingredients:
1-2 cans Corn cooked
1-2 cans Black Beans cooked
2 cups rice or more depending on preference
1 Jalapeno sliced
1-2 Avocado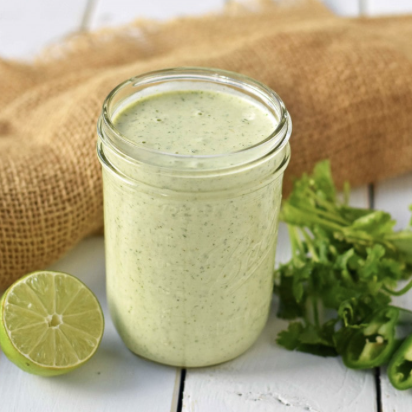 INSTRUCTIONS
Chicken Prep:
In a large ziploc bag, place chicken breast, olive oil, lime juice, chili powder, cumin and salt. Let marinate for at least 30 minutes, preferably 2-4 hours or overnight.
Chuy's Creamy Jalapeno Cilantro Dip Dressing:
In a medium mixing bowl, stir together sour cream, mayonnaise, ranch dip packet, and garlic salt.
In blender or food processor, puree cilantro and pickled jalapenos with a little juice. (If using tomatillos, blend with jalapenos and cilantro).
Add cilantro jalapeno puree to mayo mixture.
Stir in buttermilk until you reach desired consistency. Add fresh lime juice, if using.
Refrigerate until ready to serve.
Pico de gallo:
In small bowl, combine tomatoes, onion, cilantro, jalapeno and salt.
Bowl Assembly:
Remove chicken from marinate and place on hot grill (medium heat). Cook for 6-8 minutes per side, or until chicken is no longer pink. Time is an estimate as it depends on the thickness of the chicken breast. After grilling, let rest for at least 5 minutes to let juices seep into chicken. Slice on the diagonal.
Make rice according to package instructions.
Heat up black beans until warm.
Heat up corn until warm.
Make cilantro ranch dressing and homemade guacamole, if you desire.
Layer in a bowl — rice, beans, grilled chicken, pico de gallo, avocado, roasted corn, and cilantro ranch dressing.
ENJOY!!
.