By Half Baked Harvest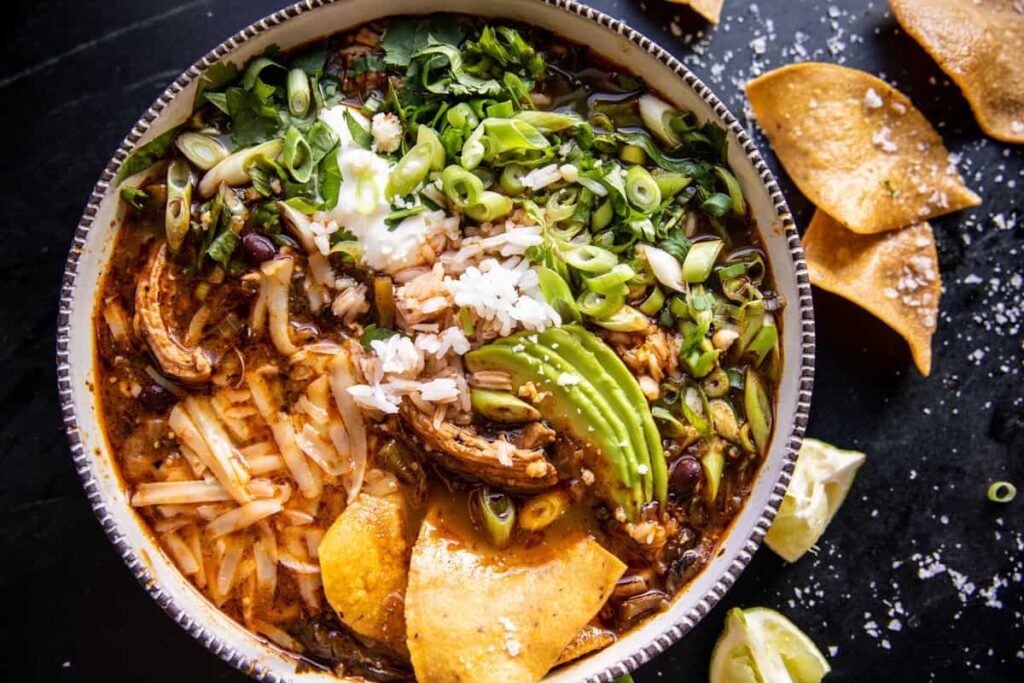 INGREDIENTS
1 yellow onion, chopped
1 pound boneless skinless chicken thighs or breasts
2 teaspoons chili powder
2 teaspoons smoked paprika
1 teaspoon dried oregano
kosher salt and black pepper 
2 cups salsa verde
6 cups low sodium chicken broth
1 can (14 ounce) black beans, drained
2 tablespoons lime juice
1/2 cup cilantro, chopped
3 cups cooked rice
tortilla chips, for serving
yogurt, avocado, cheese, and green onions, for serving
DIRECTIONS
1. In the bowl of your crockpot, combine the onion, poblano peppers, chicken, chili powder, paprika, oregano, and a pinch each of salt and pepper. Stir in the broth and salsa verde.
2. Cover and cook on low for 6-7 hours or high for 4-5 hours.
3. Shred the chicken using two forks.
Stir in the beans, lime juice, and cilantro. 
4. Stir the rice into the soup, then ladle into bowls.
5. Top, as desired, with yogurt, cheese, avocado, cilantro, and green onions. Grab a handful of tortilla chips, and serve crushed over the soup or alongside the soup for scooping. Zest lime over each bowl. Enjoy!
Original Recipe available here.