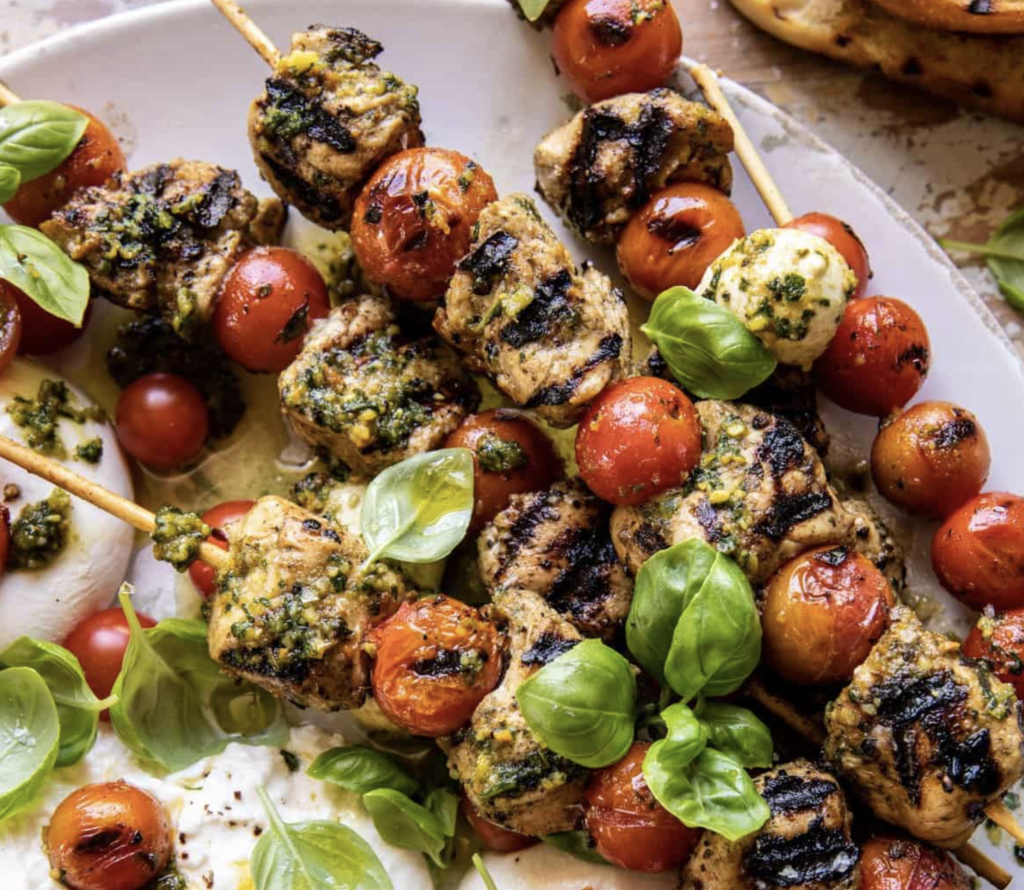 Ingredients:
2 tablespoons extra virgin olive oil
2/3 cup basil pesto
1/3 cup balsamic vinegar
3 tablespoons honey
2 tablespoons lemon juice 
kosher salt, black pepper, and chili flakes
2 pounds boneless skinless chicken breasts, cut into bite-size chunks
2 cups cherry tomatoes
1/2 cup mozzarella balls (use marinated, if you can find)
8 ounces burrata cheese, at room temperature
2 cups fresh basil leaves
Directions:
To make the vinaigrette. In a glass jar, combine the pesto, balsamic vinegar, honey, and lemon. Season with chili flakes, salt, and pepper. 
In a bowl, toss the chicken with half of the vinaigrette and 1 tablespoon olive oil. In a separate bowl toss the tomatoes with 1 tablespoon olive oil, salt, and pepper.
Set your grill, grill pan, or skillet to medium-high heat. Take skewers and thread the chicken with the tomatoes. If you have additional tomatoes, thread them on additional skewers and grill them up with the chicken. 
Grill the skewers until lightly charred and cooked through, turning them occasionally throughout cooking, about 10 to 12 minutes total. 
To serve, toss the mozzarella balls with a couple tablespoons of the vinaigrette. Arrange the mozzarella and burrata on a serving plate. Place the skewers over the cheese.
Spoon the remaining vinaigrette over everything. I usually add additional olive oil + balsamic too. Top with basil. Enjoy!