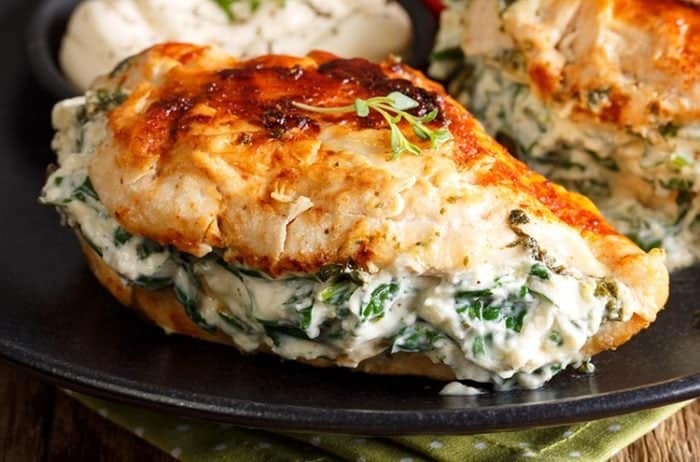 Serves 4
Per serving: 1 leaner, 1 healthy fat, ~2 condiments, and 1 green
Ingredients:
4 (8-oz) raw boneless skinless chicken breasts
1 (10-oz) pkg frozen chopped spinach
½ cup low-fat cream cheese
¼ cup Parmesan cheese
1 Tbsp minced garlic
¼ cup minced green onion
¼ tsp pepper
1/8 tsp salt if needed
Directions:
Place plastic wrap on top of each chicken breast and using a meat mallet, pound them slightly thinner.
To butterfly your chicken breasts, lay them flat on sturdy surface. Place one hand on top to hold it in place and then slice 3/4 of the way through the chicken breast using a sharp knife. Do not slice all the way through!
Heat up the olive oil in a large skillet.
Cook the chicken breast in a large skillet on medium heat, approximately 7 minutes a side, until they start to get golden brown and crispy on the outside and reach a temperature of 165°F. You want the meat to be cooked before you stuff them!
Combine the spinach, cream cheese, Parmesan cheese, chives and garlic in a bowl and microwave to take the chill off. Make sure it's nice and warm.
Carefully spoon a quarter of the cheese mixture into the middle of the cooked chicken breasts.
Turn the heat to low and put a lid on the skillet. Heat for another 5-7 minutes, until the cream cheese mixture has heated through.
Remove and plate.
Enjoy!