Classic Cheesecake with a Gingersnap Cookie Crust and Raspberry Sauce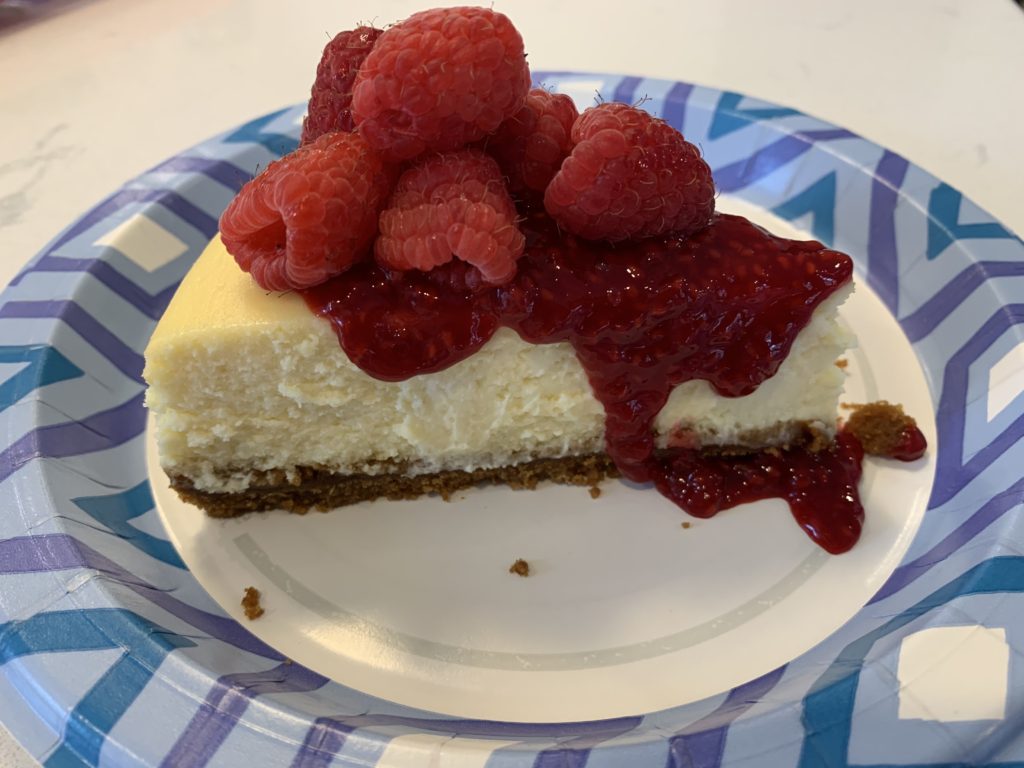 Ingredients:
 FOR THE CRUST:
2 cups Gingersnap Crumbs
6 Tablespoons Unsalted Butter, melted
2 Tablespoons Sugar
1 pinch Fine Sea Salt
 FOR THE FILLING:
24 ounces, weight Cream Cheese, At Room Temperature
1-1/4 cup Sugar
1/4 teaspoon Fine Sea Salt
4 Eggs At Room Temperature
2 teaspoons Fresh Lemon Juice
2 teaspoons Vanilla Extract
12 ounces, fluid Greek Yogurt (2%% Or Full Fat), At Room Temperature
FOR THE RASPBERRY SUACE:
2 tsp cornstarch
3 Tbsp sugar
1/3 cup water
12 oz frozen raspberries thawed
Fresh raspberries
Directions:
Preheat oven to 350ºF. Wrap 3 layers of foil around the bottom of a 9-inch springform pan.
In a blender or food processor, pulse the crust ingredients together until combined. Press into the bottom of the springform pan and bake for 10 minutes. Remove from oven onto a cooling rack.
Reduce the oven temperature to 325ºF.
In the bowl of an electric mixer, beat the cream cheese on low speed until no lumps remain. Add in the sugar and salt; continue mixing on low until the ingredients are incorporated. Scrape down the sides and bottom of the bowl as needed.
Add in the eggs, one at a time, beating after each addition until fully incorporated. Continue scraping down the sides and bottom of the bowl as needed. Keeping the mixer on low speed, add in the lemon juice, vanilla, and Greek yogurt. (Stir the yogurt first if it has separated while coming to room temperature.) Mix just until combined.
Pour the filling into the pan and place it into a large roasting pan. Place the pan into the oven and quickly pour hot water into the roasting pan so that it comes up about 1 inch up the foil-wrapped springform pan.
Bake for 55–70 minutes or until the cheesecake is set on the sides and just jiggles a bit in the center when the pan is shaken. Remove the cheesecake from the water bath and place back in the warm oven. Turn the oven off and crack the oven door. Leave the cheesecake in the oven for 1 hour.
Remove the cheesecake from the oven and run a thin knife along the edge of the pan. Let the cheesecake continue to cool to room temperature. Place in the refrigerator for several hours to chill completely. 
For Raspberry Sauce:
In a small saucepan, combine cornstarch, water, and sugar.
Add raspberries and bring to a boil, stirring constantly.
Boil for 1 minute, stirring constantly.
Sauce can be served warm or chilled.
Slice the cheesecake, add raspberries, sauce, and rosemary sprigs for garnish. Enjoy!
Original cheesecake recipe available here and original raspberry sauce recipe available here.