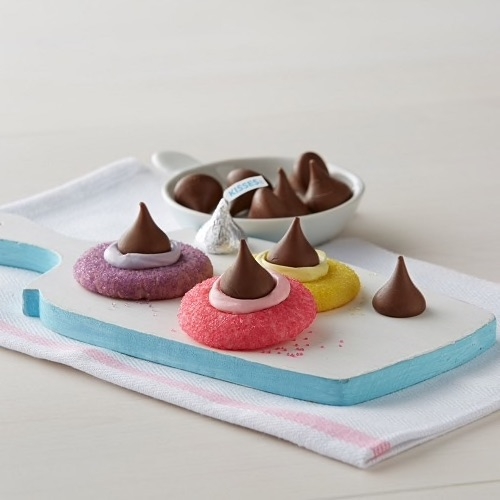 Serves: 36
Ingredients
36 pieces HERSHEY'S KISSES Milk Chocolates, wrappers removed
6 tablespoons butter or margarine, softened
1/3 cup packed light brown sugar
1/4 cup granulated sugar
1 egg
1 tablespoon milk
1 teaspoon vanilla extract
2 cups all-purpose flour
1/4 teaspoon baking soda
1/4 teaspoon salt
Food coloring, in desired colors
Sanding sugar, in desired colors
1/3 cup vanilla frosting
Shop Ingredients
Directions
Preheat oven to 350°F.
In large bowl, beat together butter and brown sugar until well blended. Beat in egg, milk and vanilla until well blended.
In separate bowl, stir together flour, baking soda and salt. Mix butter mixture into flour mixture.
For each color desired, evenly divide dough into separate bowls. In each bowl, mix in food coloring until color is uniform.
Form 36 1" balls. Roll each ball in matching sugar color; arrange on sheet pan.
Gently press thumb into balls to form indentation. Bake 8 to 10 minutes. Cool slightly; transfer to wire rack to cool.
Divide and tint frosting to match cookie colors. In each cookie indentation, place about ½ teaspoon frosting; press chocolate piece into frosting.
Original recipe available here.