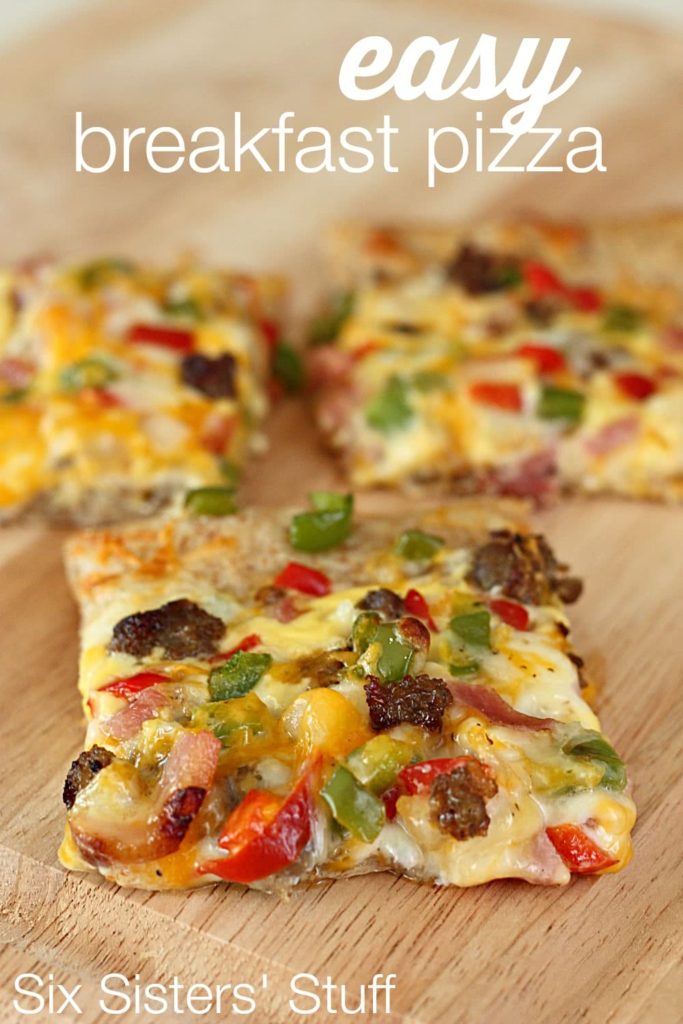 Easy Breakfast Pizza
Ingredients:
1 (13.8 oz) refrigerated pizza crust dough (I used Pillsbury) – or you could use homemade pizza dough
3 eggs
1/4 cup milk
1 cup cooked ham, diced
1 cup cooked sausage crumbles
1 cup mozzarella cheese, shredded
1/2 cup cheddar cheese, shredded
1 /2 cup green pepper, diced
1/2 cup red pepper, diced
1/2 cup onion, diced
salt and pepper to taste
garlic salt to taste
Directions:
Preheat oven to 400 degrees.
Using a 15x10x1″ baking sheet (cookie sheet), roll out your pizza dough. With your fingertips, make small indentations in the dough (this helps the eggs settle and cook more evenly).
In a small bowl, beat together the eggs and the milk, then using a pastry brush, brush the egg over the crust. Top with ham, sausage, cheese, and vegetables. I usually sprinkle a little bit of salt and pepper and then some garlic salt to add a little more flavor (but you can use whatever toppings and seasonings you like!).
Place in the oven for 12-15 minutes (mine cooked in about 13 minutes – just make sure that the egg is completely cooked and that your dough is done).
Remove from oven, slice, and serve.
Makes 6-8 servings.