My husband has been talking about this dessert since Thanksgiving of last year. I was overwhelmed with regular Thanksgiving preparations to give this a try then so I finally agreed for his 40th in a couple days that I would make it for him. Can't wait to taste it!!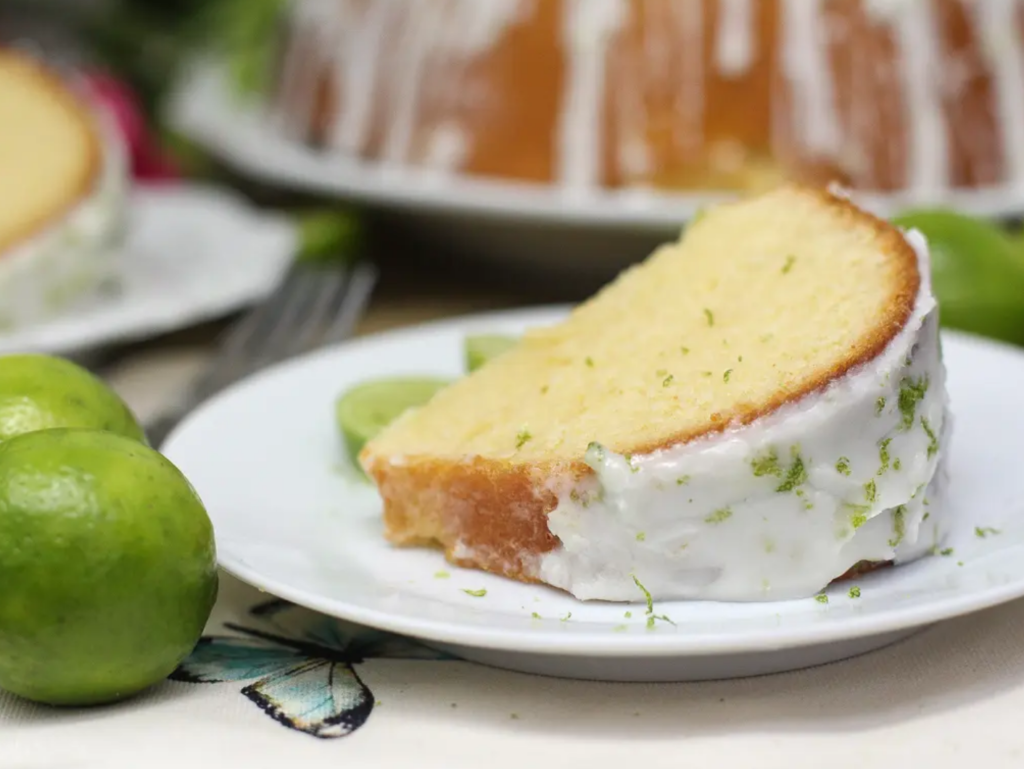 Homemade Key Lime Pound Cake w/ Key Lime Cream Cheese Icing! Bakes up dense and moist with plenty of fresh key lime flavor!Course cake, Dessert, pound cakeCuisine American, southernKeyword butter, cream cheese, icing, key lime, lime, pound cakePrep Time 20 minutesCook Time 1 hour 15 minutesTotal Time 1 hour 35 minutes
Ingredients
CAKE
3 cups all-purpose flour sifted
1/2 teaspoon baking powder
1/4 teaspoon salt
2 teaspoons key lime zest (zest from about 4-5 key limes)
1½ cups unsalted butter softened
3 cups granulated sugar
6 eggs room temperature
1 teaspoon vanilla extract
1 teaspoon lime extract
1/4 cup key lime juice (juice from about 4-5 key limes)
1/2 cup sour cream
1/2 cup buttermilk
KEY LIME CREAM CHEESE ICING
4 oz cream cheese softened
2 cups powdered sugar
1/4 cup key lime juice (juice from about 4-5 key limes)
1/4 cup milk (use enough to make icing pourable)
1-2 teaspoons key lime zest (plus more for garnishing if desired) (zest from about 4-5 key limes)
1 teaspoon vanilla extract (optional)
Instructions
Preheat oven to 325 F. Grease and lightly flour a 9½ inch bundt pan. Set aside.
In a large bowl whisk together flour, baking powder, salt and key lime zest. Set aside.
In a large bowl, using low mixer speed cream together butter and sugar just until combined.
Mix in eggs, one at a time until combine.
Mix in vanilla and lime extract.
Mix in key lime juice, sour cream and buttermilk.
Gradually add dry mixture into wet mixture until batter is fluffy and combined (DO NOT OVER MIX)
Spoon batter into prepared pan and shake the pan to level it out and remove air bubbles.
Bake for 1 hour and 15 minutes (may need a few extra minutes. I usually underbake slightly to get that perfect moist and velvety texture. Remember cake will continue to cook as it cool)
Remove from oven and place on a cooling rack.
When pan is cool enough to touch, remove cake from cake pan and allow cake to cool completely on the cooling rack.
MAKE THE GLAZE
To make the glaze, combine all glaze ingredients until smooth and silky.
Allow to chill in fridge.
Just before serving – Drizzle glaze over completely cooled cake and garnish with key lime zest.
Notes
*This pound cake tastes great the first day but even better the next day! If making for a special occasion, make it the day before.
Original recipe available here.