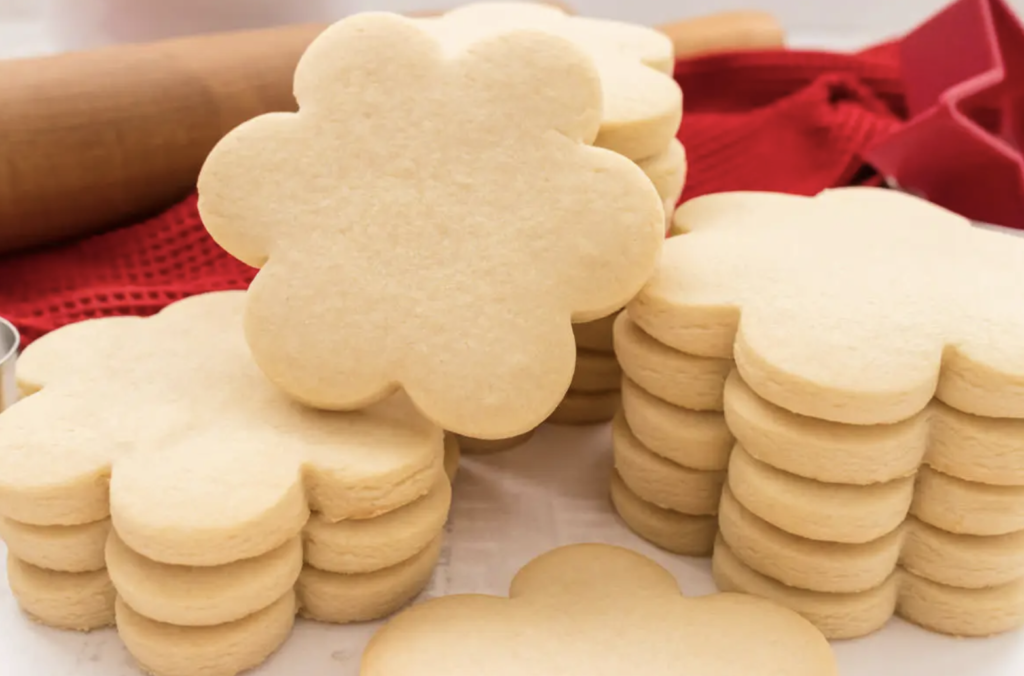 INGREDIENTS
2 cups Sweet Cream Salted Butter (softened)
 2 cups Granulated Sugar
 2 Large Eggs
 2 tablespoons Vanilla Extract
 4 teaspoons Baking Powder
 6 cups All-Purpose Flour
DIRECTIONS
Add the 4 sticks (2 cups) of butter and 2 cups of white sugar to your mixer.  

The butter needs to be softened but still cold.  A prime culprit for dry sugar cookie dough is butter that is too warm and soft.  I let the butter sit out on the counter for just under an hour before I start making the cookies – this seems to be the perfect amount of time for me.  The butter is still cold to the touch but you can press into the stick with your fingers.

Cream the butter and sugar until it is completely mixed (3 minutes on medium-high should do the trick.)
Add 2 tablespoons of vanilla and 2 eggs. I know that sounds like a lot of vanilla but this recipe needs a little extra moisture and the cookies will taste great.
Mix the cookie dough until light and fluffy (about 3 more minutes.)
Add 4 teaspoons of Baking Powder and mix.
Mix in the 6 cups of flour two cups at a time. Don't over-mix the dough when you are adding the dry ingredients. Mix it only until the flour is incorporated into the dough.
After you have added the 6 cups of Flour the dough should be firm but not dry or crumbly. If the dough seems to dry, add a tiny bit of vanilla or milk (start with a teaspoon) and mix again.
Roll a handful of the dough out on a prepared surface until it's about 3/8″ thick.
Cut out shapes with cookie cutters.
 Bake in an oven pre-heated to 350 degrees for 6-10 minutes depending on the size of the cookie cutter you used.

Do not over-bake!  We like thicker sugar cookies so they will hold a good amount of frosting.  If you make your cookies on the thick side as we have done in the pictures here, you should cook them 9-10 minutes. They might not look done to you but they are.  Take them out of the oven.  You don't want them to start browning around the edges the way a Chocolate Chip Cookie would, for example.  The cookies should be set and just bet starting to slightly brown around the edges. Over-baking is the prime culprit if you feel your sugar cookies seem dry.  If you roll out thinner cookies, or use smaller cookie cutters than the ones we have used here, you  should only bake the cookies 6 or 7 minutes.

 Let your cookies cool and then they are ready for frosting.  
Try this Best Buttercream Frosting recipe.  The frosting is easy to color and tastes so delicious and yummy on these sugar cookies.
Original recipe available here.