I love fall. I absolutely love it. I'm not really into the pumpkin spice lattes and pumpkin breads and treats that most other people love- my thing is all the outdoor fall activities! There is so much to see and do and I'm a huge fan, especially when you have 3 kids under 3 years old to entertain on a regular basis. Fall means lots of free, or relatively inexpensive, activities for everyone to see and enjoy. So check out our review of the local farms we've visited so far . . .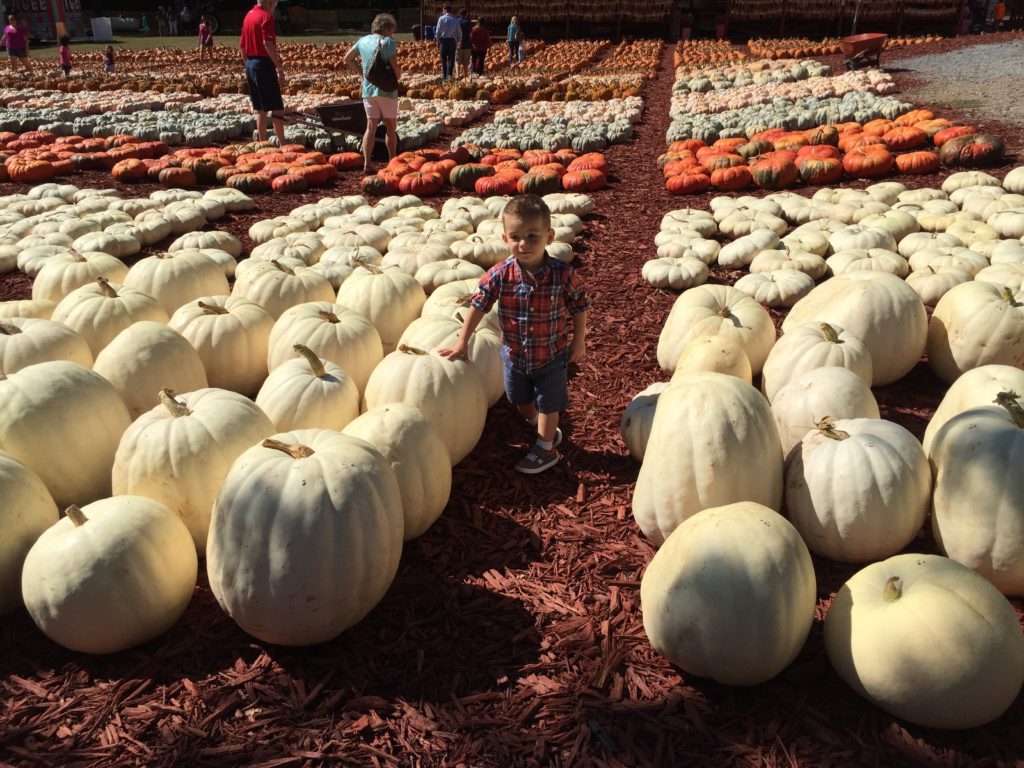 Our first stop was to Burt's Farm. We actually went here the last weekend in September. I've never been before but KH  had and suggested we avoid the crazy October crowds and hit this one early. Apparently the lines get incredibly long (even to get int he parking lot!) and with our little 3 that was not something we wanted to mess with.
Pumpkins – Burt's has LOTS of pumpkins to choose from. All colors and sizes. They even have farm grown squash and other vegetables as well you can buy.
Hayride- They hayride at Burt's is a MUST. Seriously the best one we've been on. Its about 20 min long and they literally have set something up every step of the way for you to see and experience. I don't want to spoilt the fun but just know you won't be staring at farmland or woods the whole time. My 8 year old niece said, "this is the best hayride I've ever been on!" and I absolutely agree with her. You can't beat it. Cost is $5/person. 2 and under are free.
Activities – There really aren't many other things for kids to do. There is a tractor they can sit on but no farm animals or other activities beyond the hayride.
Shopping- We went through the store pretty quickly but they have lots of locally made preserves, breads and other products as well as homemade crafts you can pick up.
Photo Opp- Lots of photo opp spots including this one below with the Burt's Farm name in the background!
The Draw – The awesome hayride and the variety of pumpkins!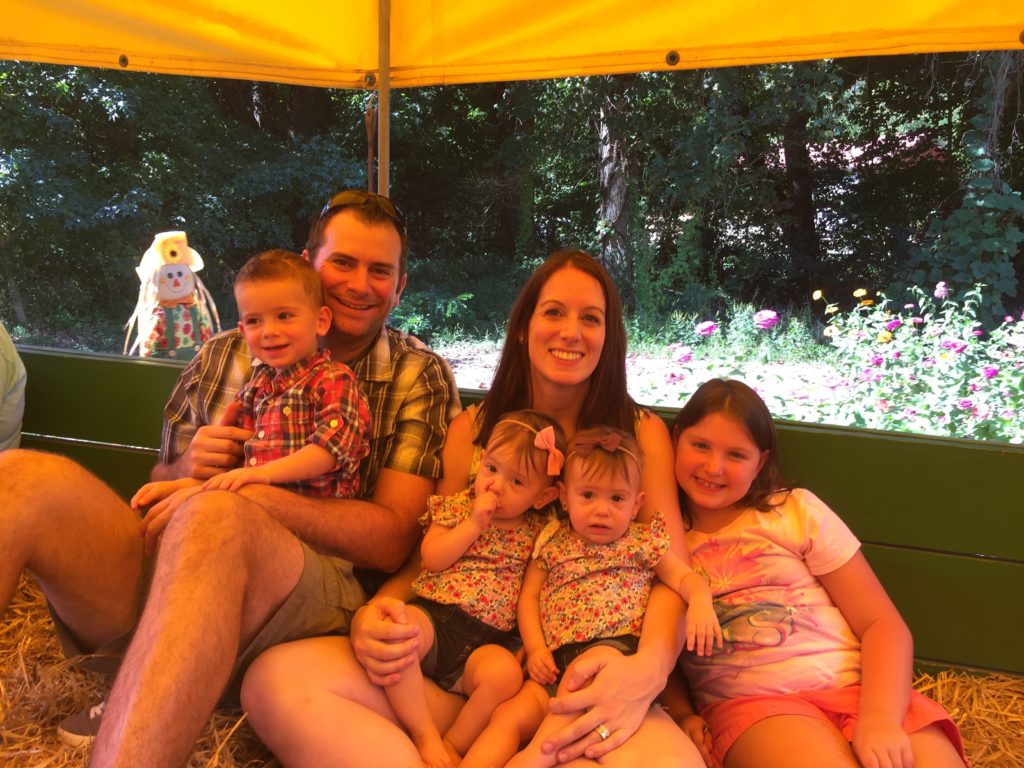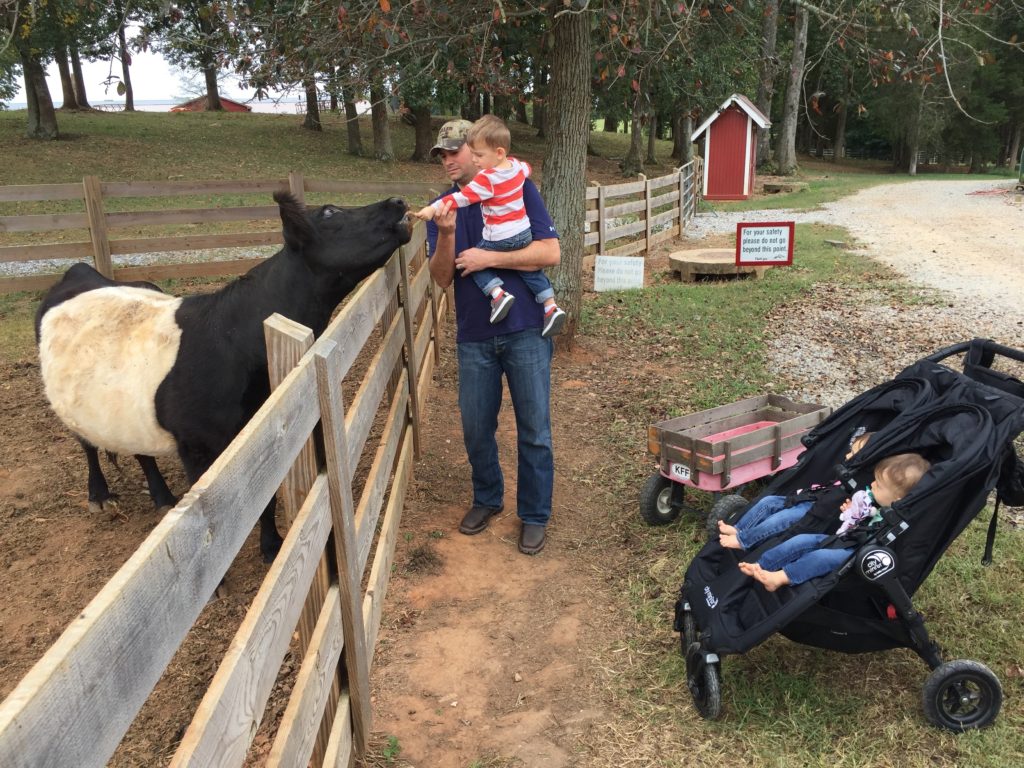 Out second stop was Kinsey. It's become an annual tradition as it was the first place we took our son to see Pumpkins when he was only 5 months old and the tradition has continued. It's a small family farm with an overall great experience.
Pumpkins-  Kinsey has a good amount of pumpkins to choose from, just not as many as Burt's. Some white ones as well and lots of different sizes.
Hayride- Good hayride takes you around the farm property where you get to see the animals as well as the Christmas tree area. Cost is $2/person. 2 and under are free.
Activities- The farm includes goats and cows which you can feed for a small price to buy the food. You can bet them for free 🙂
Shopping – There is a very small store with jared preserves, honey, pumpkins breads and even a couple t-shirts.
Photo Opp – Plenty of nature spots around the farm and with the pumpkins and hay bales.
The Draw- Kinsey is smaller, easier to get in and out, and a shorter drive than most other places. We like it for the "ease" factor.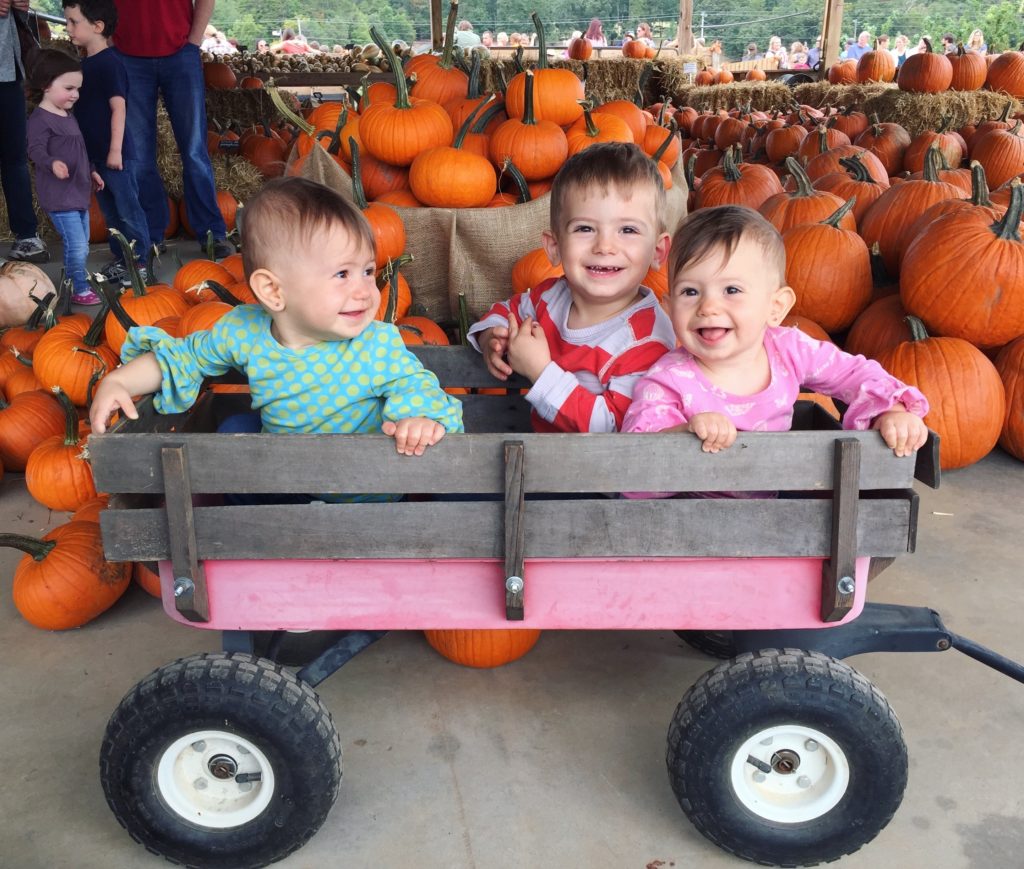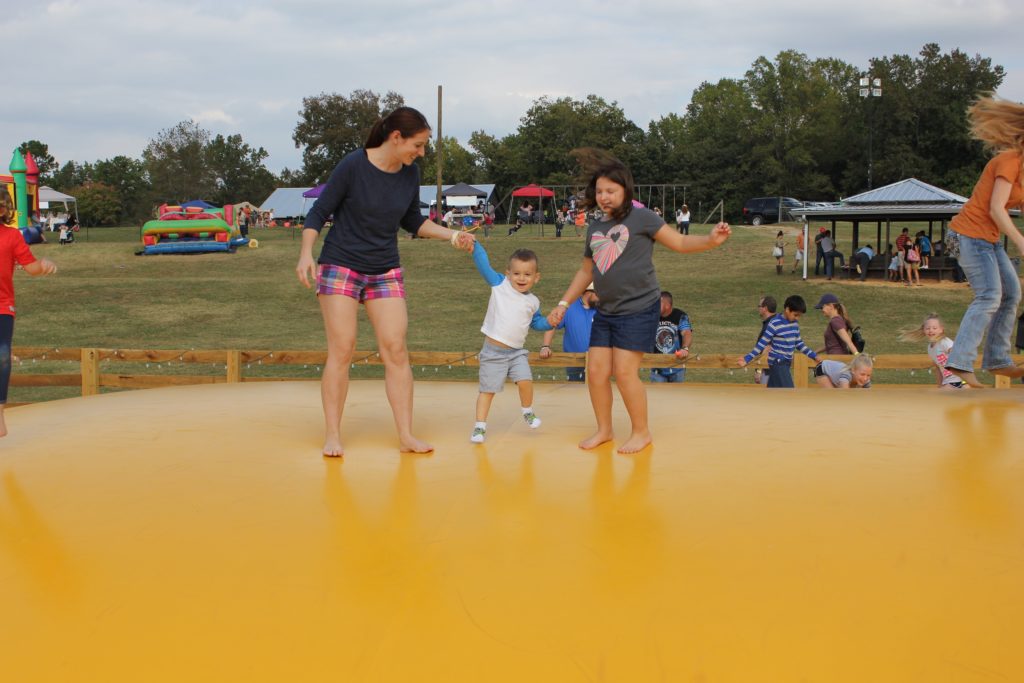 Our third stop was Warbington Farms. We went earlier in May to go strawberry picking and had a great time. This past weekend they had a Pumpkin Palooza with lots of activities and fun for the whole family. Warbington is the only one that charges to actually get in the farm but there is lots to do there. Cost is $10/person. 2 and under are free.
Pumpkins- A very small area sectioned off. I'm not sure if they actually grow the pumpkins there. It's separate from the rest of the farm.
Hayride- The hayride was VERY short. The price is included in the cost of visiting the farm. We got to see more of the farmland and got to see them feed the cows but that was about it. They hayride is also not actually a hayride but a ride on bench seats on the back of a tractor.  Cost is Free.
Activities- LOTS of activities. They had multiple bounce houses, a giant blob bouncy, slides, a corn bin where kids could get in and jump around among, a corn maze, vendors selling items, face painting, as well as a petting area where we got to pet a 5 DAY OLD cow! So sweet! Couldn't believe he was only 5 days old! We also got to pet some goats and a big. Bring a good stroller if you have little kids. The activities are all within walking and sight distance but you might need to push around the little ones.
Shopping – When we went there were vendors selling some of their crafts and local items however generally there is no shopping. Just a concession area with some food and drinks for sale. (During strawberry season they sell homemade strawberry ice cream which is AMAZING! but that's just in the summer!)
Photo Opp – There were multiple picture cut outs to stop and get a picture as well as a sign by the entrance.
The Draw- While its a bummer its so expensive there really is a TON to do for kids and its a short drive as well – just off exit 17 on 400.