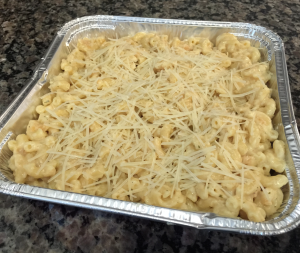 It's snowing outside and so I think we are in need of a little comfort food for dinner. This recipe is perfect as a side dish or as a meal on its own. I don't know if anyone else did this as a kid but I often like to eat my mac and cheese with a hotdog cut up and mixed in (are you with me on this?!)  Heaven in a bowl – the perfect snowy day meal! Enjoy!
Ingredients:
1 (16 oz.) package elbow macaroni
1 c. milk
1/4 c. butter
1 envelope ranch salad dressing mix
1 tsp. garlic salt
1 tsp. pepper
1 c. Monterey jack cheese, shredded
1 c. Colby cheese, shredded
1 c. sour cream
1/3 c. grated Parmesan cheese
1/2 c. crushed Ritz crackers
 Directions:
Cook macaroni according to package directions, until just al dente. Meanwhile, combine the milk, butter, dressing mix and seasonings in a pan on the stove. Heat thoroughly.  Stir in the Monterey jack and Colby cheeses until they are melted. Stir in the sour Cream.
Drain the cooked pasta, and stir into the cheese sauce, along with the cracker crumbs.  Sprinkle with Parmesan cheese, and serve. Instant comfort food!