Category Archives:
Uncategorized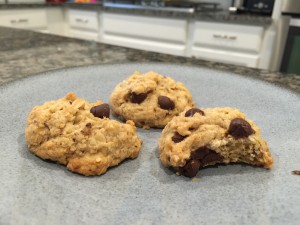 Lactation Cookies… sounds kinda weird right? I don't know how I had never heard of these with our first but they seem to be all the rage this year… a healthy cookie that you are encouraged to eat (like I need encouragement to eat sweets!) and it boosts your milk supply. Yes please! As I'm still trying to build up enough supply to feed our twins I'll take all the cookies I can get- and in the meantime I'm also trying the fenugreek pills and Mother's Milk tea.. I'll let you know what works after I give them a couple of days to "kick in." Meanwhile here is one recipe I've tried for the lactation cookies. Enjoy!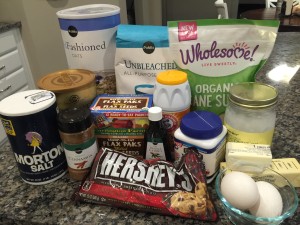 Ingredients: 
3 cups old-fashioned rolled oats
1 1/2 cups unbleached organic all-purpose flour
5 tablespoons brewers yeast
3 tablespoons ground flaxseed
1/2 teaspoon baking powder
1/2 teaspoon baking soda
1/2 teaspoon ground cinnamon
1/4 teaspoon salt
12 tablespoons organic unsalted butter (1.5 sticks)
4 tablespoons unrefined organic virgin coconut oil
1 1/2 cups organic cane sugar
1 large egg + 1 large egg yolk
2 teaspoons vanilla extract
1 1/2 cups dark chocolate chips
*I was able to find all ingredients at Publix except for the Brewers yeast which can be purchased at a health foods store like Whole Foods or I bought mine off Amazon.
Directions:
Preheat the oven the 350 degrees F.
In a large bowl, whisk together the oats, flour, yeast, flaxseed, baking powder, soda, cinnamon and salt.
In the bowl of your electric mixer, beat the butter and coconut oil on medium speed until creamy.
Add in the sugar and beat on medium to high speed until fluffy, about 4 to 5 minutes, scraping down the sides of the bowl if needed.
Add in the egg and egg yolk, beating until combined, about 2 to 3 minutes.
Add in the vanilla extract and beat until combined again.
Gradually add in the dry ingredients, beating on low speed until just combined and mixed.
Stir in the chocolate chips with a spatula until they are evenly dispersed.
Scoop the dough into 1-inch rounds* and place on a baking sheet about 2 inches apart. Bake for 10 to 14 minutes, or until the bottoms are just golden. Let cool completely before storing in a sealed container.
You can also easily freeze this dough – scoop the rounds on a baking sheet, place the sheet in the freezer for 2 hours, then place the dough rounds in a ziplock bag and store in the freezer. Bake at the same temp – they may or may not need an extra minute or 2 – your preference!
*Note: these cookies do not "expand" like regular cookies/cookie dough.. so the scoop size you use will yield the exact size of your cookies. I used a small cookie dough scoop and ended up with small cookies. Next time I'll probably try using an ice cream scoop to get more "normal sized" cookies.
Original recipe available here.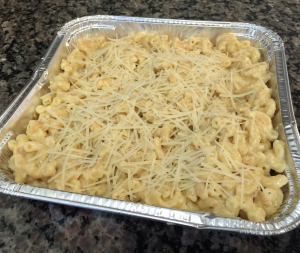 It's snowing outside and so I think we are in need of a little comfort food for dinner. This recipe is perfect as a side dish or as a meal on its own. I don't know if anyone else did this as a kid but I often like to eat my mac and cheese with a hotdog cut up and mixed in (are you with me on this?!)  Heaven in a bowl – the perfect snowy day meal! Enjoy!
Ingredients:
1 (16 oz.) package elbow macaroni
1 c. milk
1/4 c. butter
1 envelope ranch salad dressing mix
1 tsp. garlic salt
1 tsp. pepper
1 c. Monterey jack cheese, shredded
1 c. Colby cheese, shredded
1 c. sour cream
1/3 c. grated Parmesan cheese
1/2 c. crushed Ritz crackers
 Directions:
Cook macaroni according to package directions, until just al dente. Meanwhile, combine the milk, butter, dressing mix and seasonings in a pan on the stove. Heat thoroughly.  Stir in the Monterey jack and Colby cheeses until they are melted. Stir in the sour Cream.
Drain the cooked pasta, and stir into the cheese sauce, along with the cracker crumbs.  Sprinkle with Parmesan cheese, and serve. Instant comfort food!