Kyle and I celebrated our 5 year wedding anniversary on August 20. Our (or really my) original vision for our 5 year was to head back to our beloved honeymoon spot and go back to Kauai, Hawaii. We LOVED our honeymoon there and I have been ready to go back every since we left. However, having 3 kids in a little over the last 2 years changed that plan up a bit and so we decided to stay a little closer to home this year. Having already travelled to a lot of the nearby towns within a short driving distance (Savannah, Charleston, Destin, Asheville, etc) we decided to try a new spot and go to Highlands, NC. We didn't know what to expect but we were thrilled! In short, it was the perfect getaway. Only 2 hours from home, lots of beautiful scenery and hiking. Incredible food, great shopping and even wine tasting. It was the perfect little getaway for us and gave us the peaceful, relaxing, and fun vacation we desperately needed.  Check out the list of everything we did below.
WEDNESDAY
Left around 10 am. Easy drive up to Highlands.
Lunch at Wild Thyme
Shopping Downtown. Our favorite store was Bear Mountain Outfitters. Lots of great outdoor items. We got clothes and shoes (Toms of course) for the kids, and I got a swimsuit for myself.
Dinner at Ugly Dog Pub – a local hotspot!

Kyle had the 1/4lb Dog House pimento cheese hotdog, made with local beef
I had the Dog House salad with smoked chicken
Apparently Wednesdays are live music night so it was hard to find a seat at 6:30 when we arrived but luckily we got a seat at the bar

Walked back toward our hotel from dinner and stopped for Ice cream at Kilwins of Highlands
Sat on balcony of the Main Street Inn where we stayed overlooking main street
THURSDAY
Breakfast at Mountain Fresh Grocery (we split French toast, eggs, grits, hashbrowns, bacon, eggs, and amazing French press coffee)
Chattooga iron bridge and river cliffs trail – hiked about 2.5 miles
Lunch at Sports Page Sandwich Shoppe (basic but tasty sandwiches and sides)
Pedicures – oh yeah!
Shopping down Main Street
Wine tasting at Mountaintop Wine Shop
Dinner at Wolfgang's Restsurant and Wine Bistro – Incredible!

Hand breaded fried brie with a cranberry walnut compote, a lemon dijon vinaigrette and crustini as an appetizer
Kyle had the crab cake on lobster cream sauce and pecan crusted shrimp with  vegetables, orange molasses dipping sauce with a hint of scotch bonnet
I had the cajun BBQ shrimp with asiago grits and andouille scented collard greens
We also split a piece of the frozen peanut butter pie- it was pretty good but not as good as the appetizer and main dishes.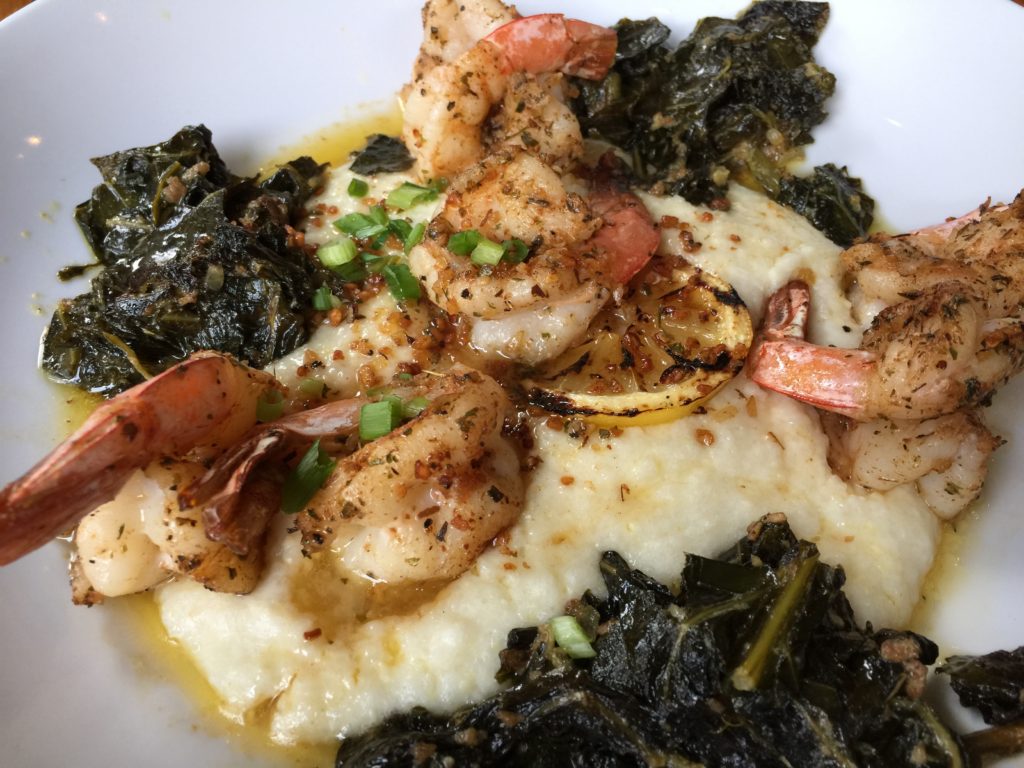 FRIDAY
Breakfast at Bake My Day- well known for their croissants and they were very tasty!
We planned to hit up a couple spots on our way out but decided to head straight home instead and snuggle our babies.
Here is a list of everything we want to do the next time around that we didn't get to:
Visit/hike to Dry Falls
Hike to Sunset Rock (at sunset of course)
Satulah Mountain
Stumphouse Tunnel Park
Ugly Dog Pub (again). Great food and really fun atmosphere.
I'd probably go back to Wolfgang's again too. Perfect date night spot and SO. YUMMY.