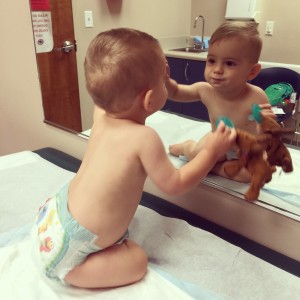 Our sweet boy is 15 months today! He is growing and changing so much its hard to capture it all! He currently weighs 21 pounds and is about 30 inches tall. Despite his dad's 6'3″ height our little man is hanging in right around the 25th percentile for his size. He is finally growing out of his 12 month clothes and now wears 12-18 month (Old Navy and Gap) and 18 month clothes (Carters).
Jude is running all over the place and prefers to walk into school instead of being carried. Still no definite words but the closest is when he holds a phone, remote or anything else up to his ear and says "hi!" 🙂 He can say please, more and all done in sign language and also waves bye and night night.
He still loves his paci and also enjoys playing outside with his Little Tikes car, as well as playing with balls, cars, trucks, books, Little People playsets and any boxes, bags or anything else random laying around the house.
This boy is keeping us running around and on our toys but we are loving every minute. He's a handful and tons of fun all at the same time 🙂
His current schedule during the day is..
7AM: Wake and Breakfast with Milk
9:30AM: Snack at school
12:00PM: Lunch and Milk at school
1:30PM-3:30PM: NAP
3:30PM: Snack at school
6:00PM: Dinner and Milk
6:30PM: Bath
7:00PM: Bed