I often visit my blog to recall past recipes and previous information- its the original reason I started blogging in the first place, to capture everything I want to remember and have it all in one place. So tonight I came to the blog looking for this recipe and I couldn't believe I hadn't posted it yet. This is one of my favorite recipes for traditional chocolate chip cookies that are anything but ordinary. Trust me….your taste buds will thank you! Served best warm with a tall glass of cold milk. 🙂 Enjoy!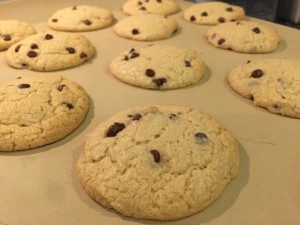 Ingredients: (see below before you start measuring! – this makes a TON- save this quantity for a bake sale or a neighborhood block party) 🙂
1 pound unsalted butter, at room temperature
2 cups brown sugar
1 1/2 cups granulated sugar
3 eggs
2 tablespoons pure vanilla extract
6 cups unbleached, all-purpose flour
1 1/2 tablespoons baking soda
1 1/2 teaspoons kosher salt
4-5 cups semisweet chocolate chips (4 cups is 2 bags)
Ingredients: (1/3 the recipe = 3 dozen cookies)
1 stick and 3 tbsp butter
2/3 cup packed brown super
1/2 cup white sugar
2 tsp vanilla
1 egg
2 cups flour
1/2 tbs baking soda
1/2 tsp salt
Directions:
1. Preheat oven to 375 degrees. Cream butter and sugars in the bowl of an electric mixer fitted with the paddle attachment until smooth. Add in eggs and vanilla, and cream on medium high speed.
2. Combine dry ingredients in a separate bowl and slowly add to mixture. Mix until fully incorporated, but do not over mix. Fold in chocolate chips with a wooden spoon.
3. Drop by heaping tablespoonfuls onto baking sheets. Bake for 10-12 minutes, or until starting to brown.
Original recipe available
here
.