I've been doing pretty well sticking to our meal plan for the week. We've moved around some of the meals but no emergency pizza calls or cereal nights so that's a plus! Tonight we tried this recipe for shrimp and grits.. It was so simple to make but has a flavorful and simple taste. It's the perfect weeknight meal after a busy week when you want something different but don't want to make an extravagant meal. I hope you enjoy it as much as we did!
Ingredients: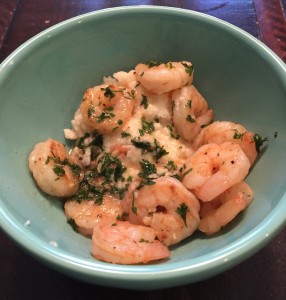 3/4 cup instant grits
Kosher salt and freshly ground black pepper
1/4 cup grated parmesan cheese
3 tablespoons unsalted butter
1 1/4 pounds medium shrimp, peeled and deveined
2 large cloves garlic, minced
Pinch of cayenne pepper (optional)
Juice of 1/2 lemon
2 tablespoons roughly chopped fresh parsley
Directions:
Bring 3 cups of water to a boil in a medium saucepan over high heat, covered.
Uncover and slowly whisk in the grits, 1 teaspoon salt and 1/2 teaspoon pepper.
Reduce the heat to medium low and cook, stirring occasionally, until thickened, about 5 minutes.
Stir in the parmesan and 1 tablespoon butter.
Remove from the heat and season with salt and pepper. Cover to keep warm.
Meanwhile, season the shrimp with salt and pepper.
Melt the remaining 2 tablespoons butter in a large skillet over medium-high heat.
Add the shrimp, garlic and cayenne and cook, tossing, until the shrimp are pink, 3 to 4 minutes.
Remove from heat and add 2 tablespoons water, the lemon juice and parsley, stir to coat the shrimp with the sauce and season with salt and pepper.
Divide the grits among shallow bowls and top with the shrimp and sauce. Serve.
Original recipe available here.