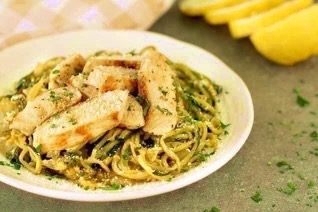 Ingredients:
36.4 oz boneless, skinless chicken breast cut into large, thin bite size pieces.
4 teaspoons extra virgin olive oil
2 1/2 cups (9.95 oz) zucchini noodles
3 1/4 cups (2.28 oz) package baby arugula
1/4 cup (.88 oz) thinly sliced green onion 
1/2 tsp sea salt
1/4 cup lemon juice
1/2 tsp ground black pepper (1 condiment)
3 large garlic cloves, minced (3 condiments)
Directions:
Preheat the oven to 400 degrees F. Place the chicken pieces, oil, garlic, white part of green onion, and lemon juice in a deep sided 9×13 baking pan. Stir to coat. Then bake for 12 minutes or until chicken is fully cooked. 
Meanwhile, prepare your zucchini noodles. 
Stir the arugula and green onion into the chicken. Then toss the chicken mixture with the zucchini noodles. Sprinkle with salt and pepper. Serve hot on a large platter.