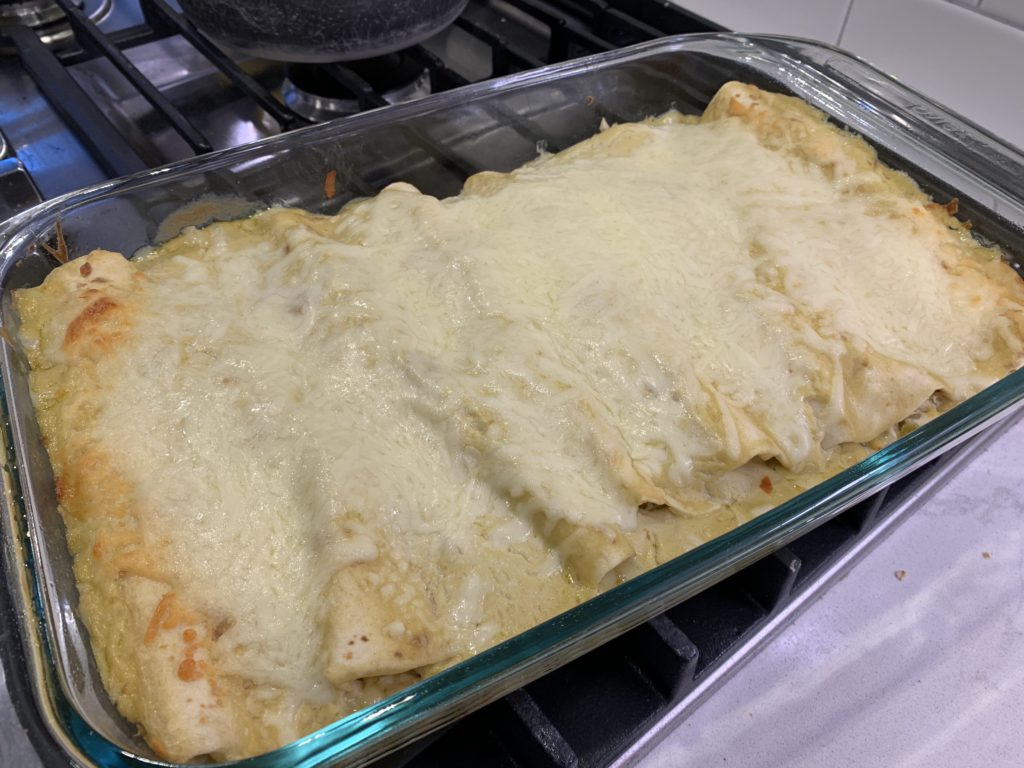 Ingredients:
Two 10oz cans mild green enchilada sauce
One 10.5oz can condensed cream of chicken soup
One 8oz container sour cream
4 cups shredded cooked chicken
One 4oz can diced green chiles
3.5 cups grated mozzarella cheese
Ten 10in soft flour tortillas
Toppings if desired: 1 vine ripe tomato, fresh cilantro, fresh lime wedges
Directions:
Preheat oven to 350 degrees
Spray 9×13 in baking dish with vegetable oil
In a large bowl, whisk together enchilada sauce, cream of chicken soup, and sour cream. Spread about 1/2 cup of sauce in bottom of baking dish. Set aside remaining sauce.
In medium bowl, combine chicken and chiles.
Sprinkle mozzarella cheese on tortilla, then add some shredded chicken and chile mixture.
Tightly roll up tortilla and place it seam side down in pan.
Pour remaining sauce over filled tortillas.
Bake for 20 minutes.
Remove from oven and sprinkle remaining mozzarella cheese on top
Bake until cheese is melted. About 15 minutes.
Top with chopped tomatoes, cilantro, and/or lime wedges at table.
Serve with mexican rice and beans.
Original recipe available here.