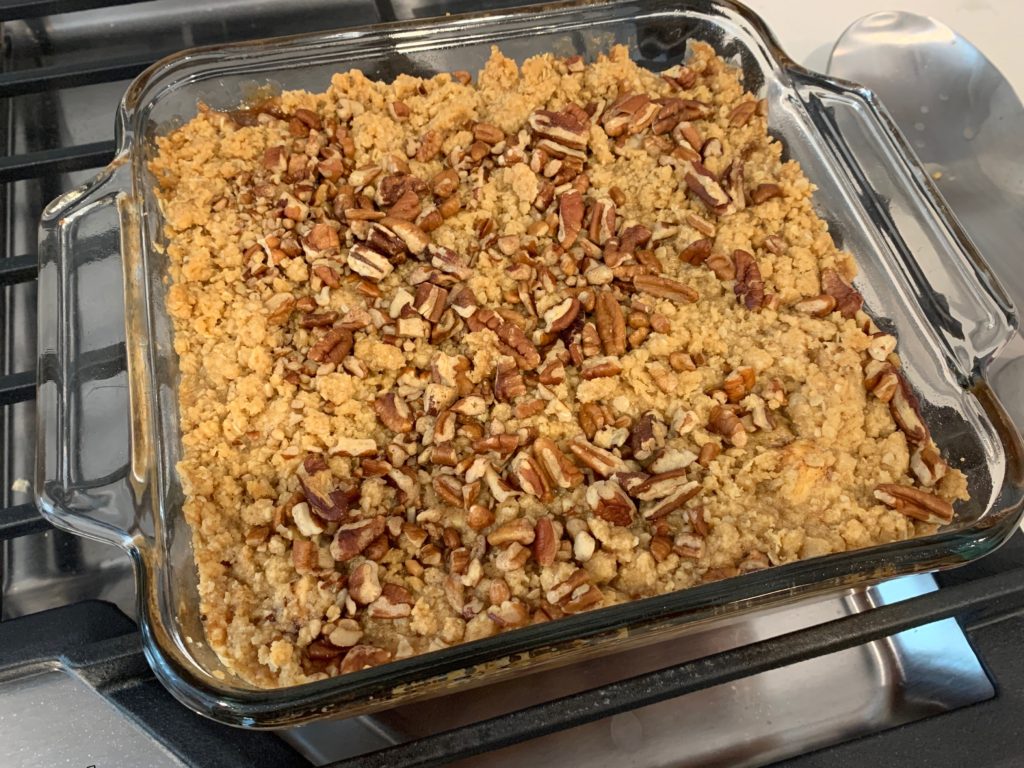 Ingredients:
Filling
3 large apples, peeled, coarsely chopped (about 3 cups) 
1/2 cup granulated sugar
1/4 cup packed brown sugar
1 to 2 teaspoons ground cinnamon
1/4 cup cold butter or margarine, cut into small pieces
Topping
1 pouch (1 lb 1.5 oz) Betty Crocker™ oatmeal cookie mix
1/2 cup butter or margarine, melted
1/2 cup chopped pecans
Steps:
Heat oven to 300°F. Spray bottom and sides of 8-inch square (2-quart) glass baking dish with cooking spray. In large bowl, toss filling ingredients. Spread mixture in baking dish.
In same large bowl, stir cookie mix and melted butter until crumbly. Sprinkle over filling.
Bake 40 minutes. Remove from oven; sprinkle with pecans. Bake 15 to 20 minutes longer or until topping is golden brown. Serve warm or at room temperature. Best enjoyed with a scoop of ice cream or a dollop of whipped cream.
Original recipe available here.
*Sub with gluten free or non-dairy ingredients and still SUPER yummy. I used vegan non-dairy butter and gluten free oatmeal cookie mix. yum!