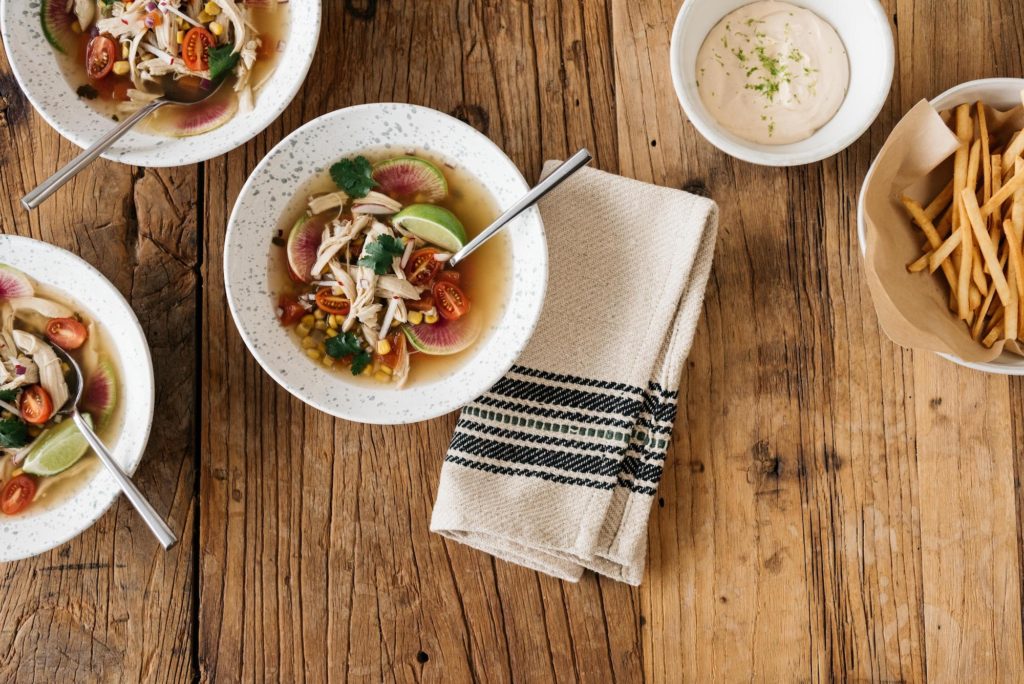 *Courtesy of Magnolia Blog. Original recipe available here.
Makes 6-8 servings
Ingredients
+ Three 32-ounce cans chicken broth or 12 cups Homemade Chicken Broth (page 216 of Magnolia Table)
+ 1 vine-ripened tomato, cut into ½-inch dice
+ One 15.25-ounce can corn kernels, drained
+ ¼ cup finely chopped red onion
+ 1 ½ jalapeño (ribbed and seeded if desired), minced
+ ½ teaspoon kosher salt
+ ½ teaspoon freshly ground black pepper
+ One 5.4-ounce pouch Mexican rice mix, or a similar mix
+ 4 cups shredded meat from 1 store-bought rotisserie chicken or Perfect Roast Chicken (page 203 of Magnolia Table)
+ 1 teaspoon ground cumin (optional)
Optional Toppings
+ ½ cup chopped fresh cilantro
+ 1 or 2 Hass avocado(s), pitted, peeled, and cut into ½-inch dice
+ One 13-ounce bag tortilla chips, crushed
+ 2 cups grated mozzarella cheese (about 8 ounces)
Instructions
1. In a large soup pot, combine the broth, tomato, corn, onion, jalapeño, salt, and black pepper. Bring to a boil over medium-high heat. Reduce the heat and then add the shredded chicken. Simmer until heated through.
2. Stir the rice mix into the soup. Add the cumin (if using) and simmer for 15
minutes to cook the rice and let the flavors meld.
3. Place the cilantro, avocado, crushed tortilla chips, and mozzarella in separate
serving dishes. Ladle the soup into bowls and pass the garnishes at the table.
4. Store leftover soup in a covered container in the refrigerator for up to 4 days.