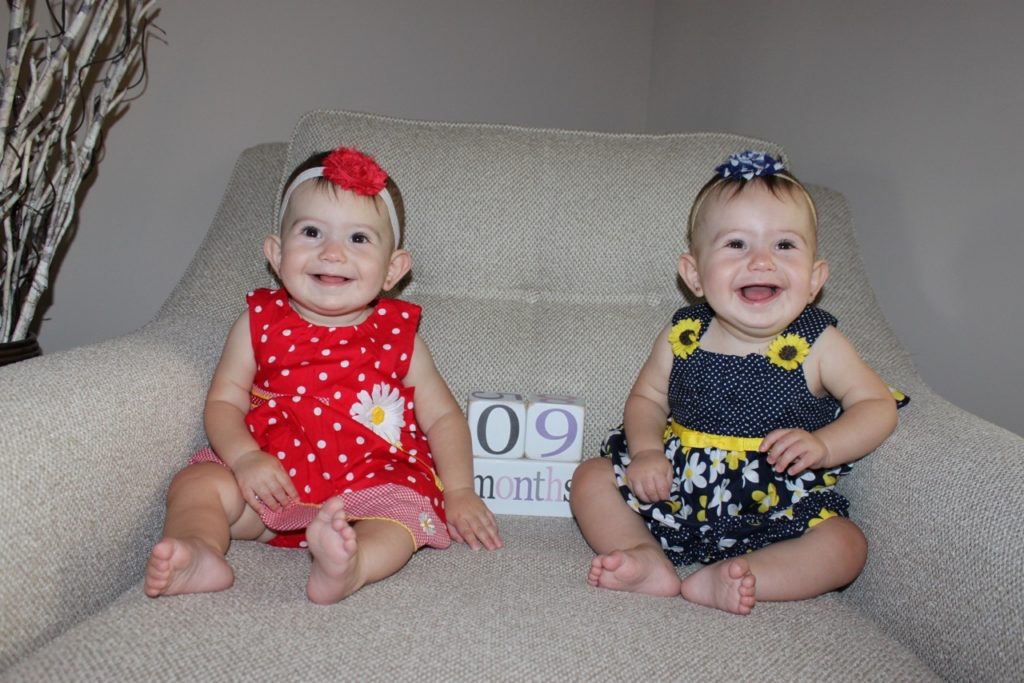 The girls turned 9 months old today! We are pretty sure Sloane will be the first to talk and Maisie will be the first to crawl. Maisie has learned how to pull the tabs off her diaper and Sloane is an expert at stealing toys and pacis- even though Maisie is quick to steal them back. Sloane loves to wave and Maisie loves to be held. Both girls are doing great with all their puréed fruits and veggies and have enjoyed everything except black beans. They still have "stranger danger" but are quick to warm up to anyone who talks in a high pitched voice and makes them laugh.
Sloane weighs 16 lb, `13oz and is 27.5 in long. Maisie weighs 16b, 12.4oz and is 27.25 in long. They are both true to size in clothes except for pajamas. Most clothes are size 6-12 month or 9 month. The only exception is pajamas due to their length. They both wear 12 month pajamas.
Here is their current feeding and nap schedule which we transitioned to between 8-9 months old. (Still hold onto 3 naps which is amazing!)
6:30AM – Wake and eat 8oz bottle
7:30AM- Eat pureed baby food or oatmeal (about 4 oz)
8:00AM- Nap
10:30AM- Eat 7oz bottle
11:00AM- Eat yogurt (4 oz)
12:00/12:30 PM – Nap
2:30PM – Eat 7oz bottle
3:00PM- Eat pureed baby food (4 oz combo of veggie and fruit)
4:30PM- Nap*
6:00PM – Eat 7oz bottle
6:30PM – Bath
6:45PM- Bed for the night
We love our sweet baby girls. 9 months. Can't believe it! ?? Happy Birthday girls!
*About a week after our girls turned 9 months we dropped the last nap of the day. They started to take a long time to fall asleep at night and weren't as tired anymore. Once we dropped the third nap they were back to their usual selves and fell asleep almost instantly once we laid them down for the night.