It's Monday… which means the start of another week and the need for some easy weeknight meals. A fun fact.. I used to be a vegetarian.. for about 2 years… for health reasons. It was a huge adjustment for us as we were newlyweds and I was trying to figure out how to cook yummy meals for my new husband each night. My husband who loves meat. Loves it. And so I began the quest to find yummy vegetarian meals that would satisfy us both – even the toughest meat-eating critics. Here is one of our favorites that I recreated again tonight.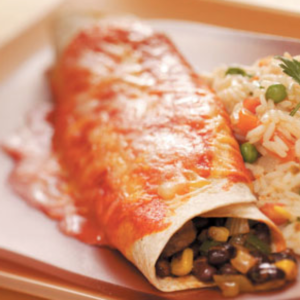 Ingredients
1/2 red onion, chopped
1 small green pepper, chopped
2 teaspoons olive oil
1 garlic clove, minced
1 can (15 ounces) low-sodium organic black beans, rinsed and drained
1 can (15 ounces) low-sodium organic corn, rinsed and drained
fresh cilantro 
6 low carb multi-grain tortillas (8 inches)
1 can enchilada sauce (or homemade)
1 cup shredded cheddar cheese 
1 cup shredded mozzarella cheese 
1/2 tsp cumin
Directions
In a large skillet, saute the onion and green pepper in oil until crisp-tender. Add garlic; cook 1 minute longer. Add the beans, corn, cumin and cilantro; cook for 2-3 minutes or until heated through.
Spoon 1/2 cup bean mixture down the center of each tortilla. Roll up and place seam side down in a greased 13-in. x 9-in. baking dish. Top with enchilada sauce and cheese.
Bake, uncovered, at 350° for 25 minutes or until heated through. 
Yield: About 8 enchiladas.
 Original recipe available
here
.