Well yesterday was a success- a successful Easter dinner with the family. We kept it easy and the stress low and I think we all ended the night happy and full 🙂 With help from my parents and my MIL we had a Honey Baked ham, green bean casserole, salad and then these tasty (I think so at least! 🙂 ) mashed potatoes. I wanted a side that I could do some of the prep work ahead of time and then finish as we got closer to eating time. These potatoes were not only tasty but super super easy. One thing to note – grocery stores aren't open on Easter 🙂 So we made this without the sour cream- I'm assuming it would be even better with it but we were just fine without it too!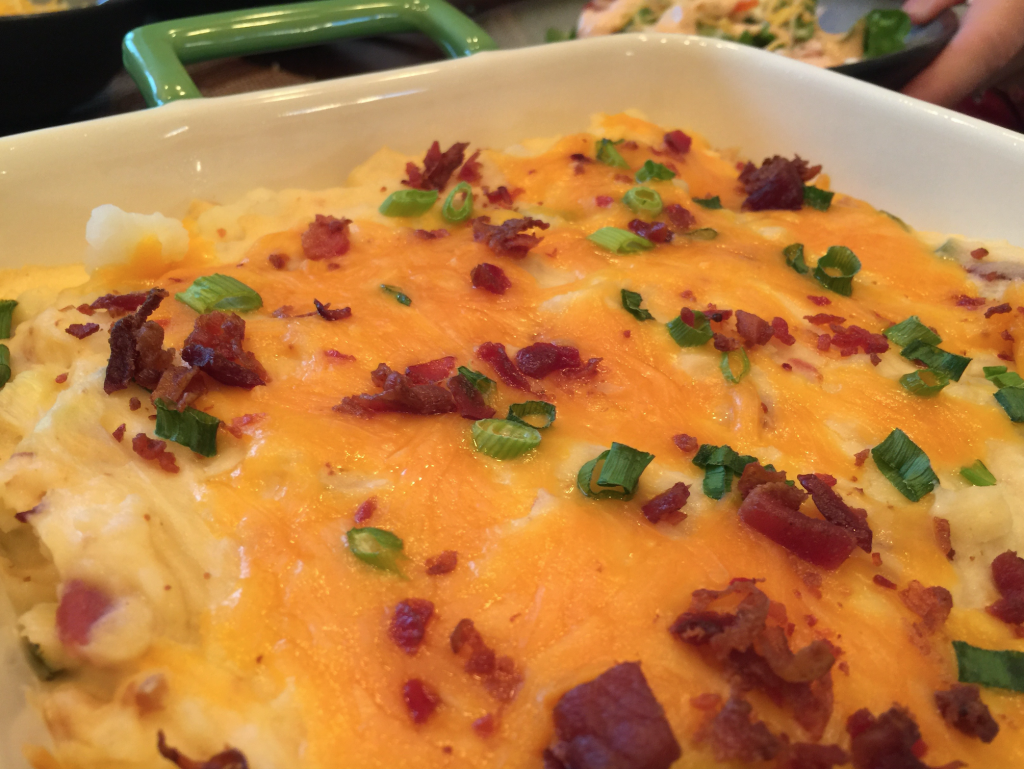 Ingredients:
5 lb russet potatoes
1/2 cup butter
8 oz cream cheese, cubed
1 cup sour cream
2 cups cheddar cheese, divided
2.8 oz jar real bacon pieces (or 10 slices bacon, cooked and crumbled)
4 green onions, sliced thin
2 teaspoons kosher salt
Directions:
Peel and chop potatoes, place into a large stockpot.
Cover with water and bring to a boil over high heat. Once boiling, reduce heat to a simmer and cook for 20 minutes.
Test a larger piece by piercing with a fork to make sure they're cooked through and tender. Remove pot from heat, drain potatoes and place back in pot.
Preheat oven to 350 degrees.
Smash potatoes with the back of a wooden spoon, it's ok if there are still chunks.
Stir in butter and cubed cream cheese. Keep stirring until completely melted.
Add in sour cream, 1 1/2 cups cheddar, 3 sliced green onions, salt, and bacon pieces (reserve 1/4 cup bacon pieces for topping).
Spread into a greased 3 quart baking dish.
Sprinkle remaining cheddar, bacon pieces, and sliced green onion over top.
Bake at 350 for 15 minutes or until cheese is melted and potatoes are heated through.
Original post available HERE.