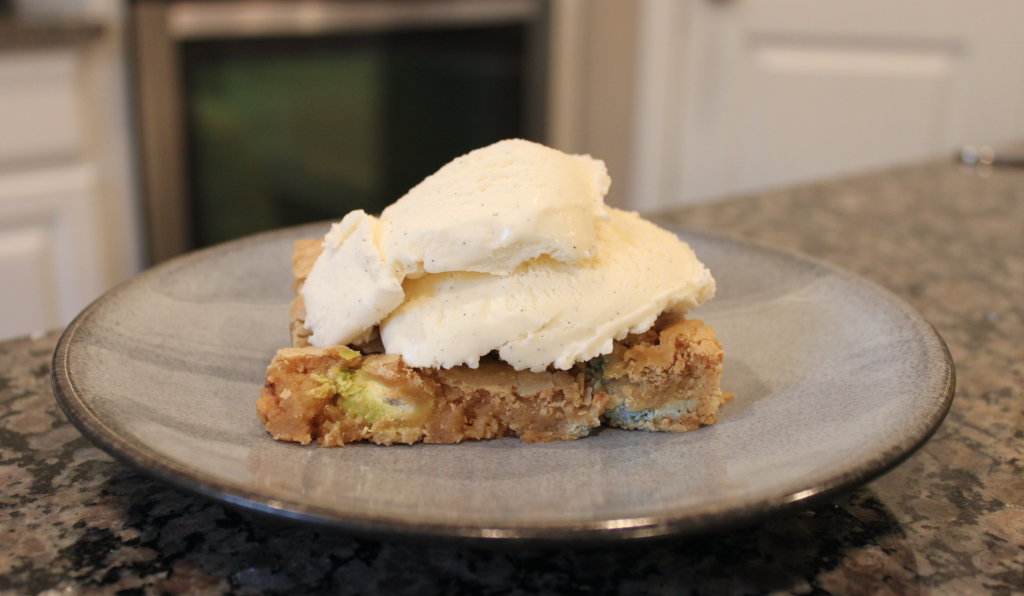 And what family get together would be complete without an assortment of desserts. So not only did we enjoy Kyle's family's famous Nut Butter balls at our Easter dinner yesterday but I also decided to make a new dessert as well. Chocolate and peanut butter candies in a blondie, topped with vanilla ice cream. What more could you need?! Enjoy 🙂
Ingredients
2 cups brown sugar
10 tablespoons butter, softened
3 large eggs, whisked
1 teaspoon vanilla extract
2 1/2 cups all-purpose flour
2 teaspoons baking powder
1/2 teaspoon salt
9-12 Reese's 6oz peanut butter eggs (usually individually wrapped)
1 bag peanut butter M&Ms
Instructions
Heat oven to 325 degrees. Prepare 9×13 baking dish sprayed with cooking spray and sprinkled lightly with flour.
Cream butter and sugar in a large bowl. Add in eggs and vanilla and blend until combined.
In a separate bowl, whisk the flour, baking powder, and salt.
Pour into the butter mixture and stir with a wooden spoon.
Press 1/2 the dough into the pan (coat your hands with flour and spread with your hands if needed).
Cut the Reese's eggs into small chunks and lay them on top of the dough.
Place the remaining cookie dough on top of the Reese's by dropping in spoonfuls.
Gently press the peanut butter M&Ms on top.
Bake for 35-40 minutes. When done, the bars will look puffy and the edges will be golden brown. The dough should still be soft in the center as it will finish cooking a bit while cooling.
Allow bars to cool. Eat while warm with ice cream! Heavenly!
Original recipe available HERE.
From our family to yours.. Happy Easter!