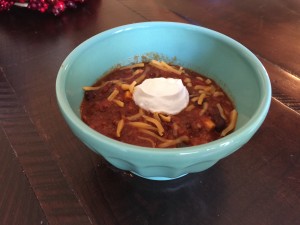 So my husband has been spending the last couple of weeks perfecting this recipe he found for a Chili Cook-Off Competition at his work. The original recipe is insanely spicy. So hot I could barely get it down with a glass of milk.. so Kyle has spent the last 2 tries working on perfecting the recipe so it kept the flavor but cuts down the spice. Check out this hearty recipe you'll definitely want to try this winter!
Ingredients:
1/4 cup olive oil
1 large yellow onion, diced
1 medium shallot, diced
7 cloves of garlic, minced
2 green bell peppers, diced
1 lb. ground chuck
1 lb. chorizo sausage
1 packet of low sodium taco seasoning
1 Tablespoon chili powder
1 Tablespoon of cumin
1 dash of cinnamon
1 teaspoon cayenne pepper
2 teaspoons salt
1 teaspoon freshly cracked black pepper
1 can beef broth
2 cans of black beans, rinsed and drained
2 cans of kidney beans, rinsed and drained
1 can chipolte peppers in adobo sauce
1 bottle of SweetWater Festive Ale (or other dark lager)
2 28 oz. cans of crushed tomatoes in juice/puree
1 small can tomatoes and green chilies (Rotel)
1 small can tomato paste
10-15 oz. frozen corn
Directions:
Brown the ground chuck and chorizo together, drain, and set aside.
In a large pot, heat olive oil over medium high heat. Add your onion, green pepper, shallot and garlic…sauté until tender.  Add in the meat mixture and all the spices and stir well.  Add in the beef broth and cook for another 5 minutes.
Chop up the chipotle peppers in adobo sauce.  Add in the chopped peppers, including the seeds and extra sauce on the cutting board, stir well. Add in everything else except the tomato paste and corn. Bring to a boil and cook for 30 minutes, stirring occasionally to ensure nothing is sticking to the bottom of the pot.
Turn down the heat and simmer for another 60 minutes.  Add in the tomato paste and corn, cook for 5 minutes and serve when ready.