With the holidays in full swing there is lots to do and lots to get ready for. And with my husband out of town this week I need quick and easy dinner meals to get us through those busy nights after school and before bedtime.
One of my favorite recipes for a quick and easy dinner are these Creamy Chicken Taquitos. The only downside is they call for shredded chicken which always seemed like a hassle to come by. Usually I'd buy a rotisserie chicken but even that takes a lot of time to prep. So finally I came across this recipe which results in tasty shredded chicken ready in no time. Enjoy!
INGREDIENTS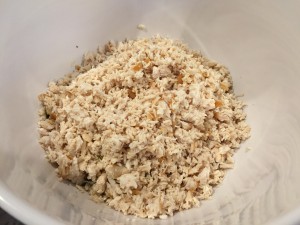 1 tablespoon olive oil
2 boneless, skinless chicken breasts
Salt and pepper
3/4 cup water or low-sodium chicken broth
DIRECTIONS
In a large 12-inch nonstick skillet with a lid, heat the olive oil over medium heat until hot and rippling. Pat the chicken dry and season with salt and pepper on both sides. Place the chicken top-side down in the hot skillet and let the chicken cook for 5 minutes until golden brown on top. Flip the chicken, add the water or chicken broth, cover the skillet and let the chicken simmer gently over medium heat for 7-10 minutes until the chicken is cooked through (it will register 160 degrees on a thermometer). Don't overcook or it might be dry. While the chicken is simmering, add additional water 1/4 cup at a time if the liquid evaporates too quickly. Remove the chicken from the skillet. Let it cool slightly before shredding.
Original recipe available here.