Another great dish brought by another great neighbor as we are learning how to be parents of 3 under 2 years old! It's easy for larger groups or for weeknight dinners. If you don't like a lot of sauce check out the original recipe linked at the bottom of this post. If you're like me and like a some sauce with your pasta then check out my adapted version written below. Thanks Jenn!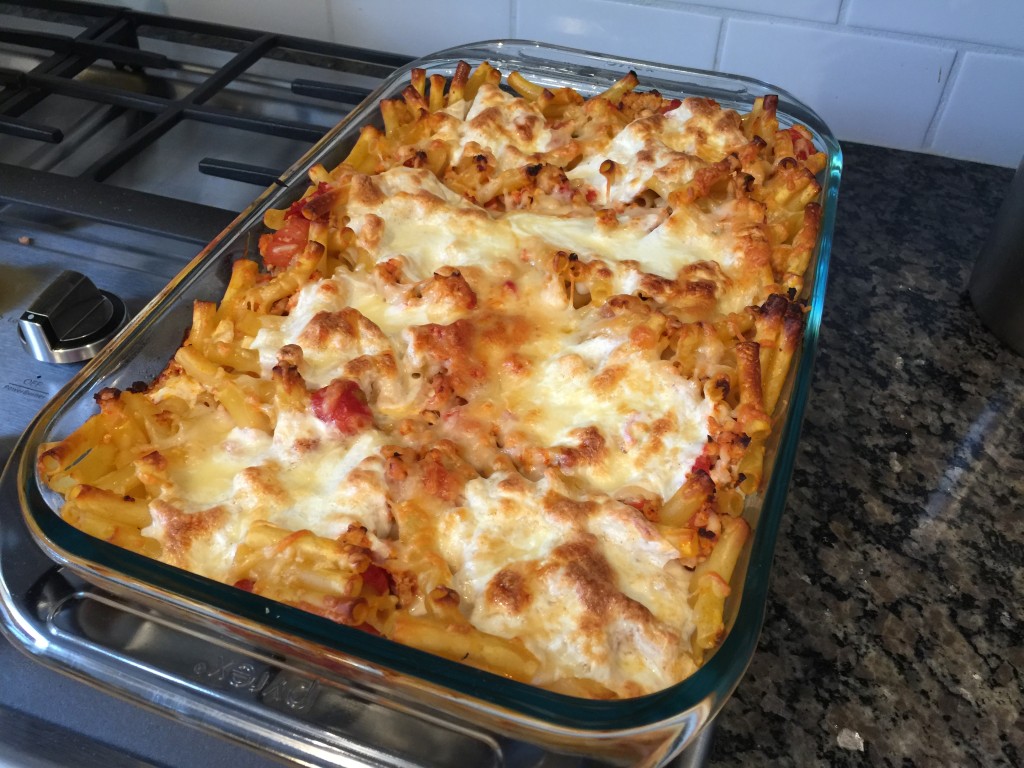 Ingredients:
1 pound dried ziti pasta
2 tablespoons extra-virgin olive oil
1 pound sweet and or spicy Italian sausages, casing removed and crumbled
1/4 medium onion, diced
3 cloves garlic, chopped
One jar tomato/spaghetti sauce
Fresh basil (about 3-4 sprigs)
1 pound fresh mozzarella, half sliced and half cubed
1 cup shredded Parmesan, divided
1/2 tsp freshly ground black pepper
Directions:
Preheat the oven to 400 degrees
Bring a large pot of water to a boil, salt generously, and boil the pasta until al dente, tender but still slightly firm. Drain. (Meanwhile start sauce).
Heat the oil in a medium saucepan over medium-high heat. Cook the sausage until beginning to brown, about 3 minutes.
Add the onion and garlic, stirring, until lightly browned, about 3 minutes more.
Add the basil and tomato sauce (about 1/2-3/4 jar depending on how saucy you want it)  and bring to a boil.
Lower the heat and simmer, covered, for 10 minutes.
Season with salt and paper
Toss the cooked pasta with the tomato and sausage sauce, half the mozzarella cubed, and h1 Parmesan cheese.
Transfer the pasta to an oiled 9 by 13-inch baking dish.
Cover the top of the pasta with the sliced mozzarella, and sprinkle with the remaining Parmesan.
Bake until lightly browned and hot, about 30 minutes. Serve immediately.
Original recipe available here.