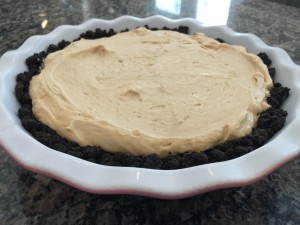 This is another great recipe from our friend and neighbor Jenny. She made it as a welcome home treat for her husband after he returned from a long work trip and now I've decided to try it on our family.  The end of summer is almost here and so the entire family is coming over this weekend for a BBQ and pool party. A cold and tasty treat sounds just perfect for our weekend festivities and should satisfy even our pickiest eaters. This pie is so easy and yummy- perfect to make ahead of time so have one less thing to think about when entertaining guests. I hope you enjoy it!
Ingredients:
25 Oreos (a little less than one package)
4 tablespoons butter, melted
1 cup creamy peanut butter
One 8-ounce package cream cheese, softened
1 1/4 cups powdered sugar
One 8-ounce package Cool Whip, thawed
Directions:
For the crust: Preheat the oven to 350 degrees F. Crush the cookies until they're fine crumbs. Pour the melted butter over the top and stir with a fork to combine. Press into a pie pan and bake until set, 5 to 7 minutes. Remove from the oven and allow to cool completely.
For the filling: Beat the peanut butter with the cream cheese until smooth. Add the powdered sugar and beat until smooth. Add in the thawed Cool Whip and beat until smooth, scraping the sides as needed.
Pour the filling into the crust, evening out the top with a knife or spatula. Chill for at least an hour before serving (best if chilled overnight).
Original recipe available here.