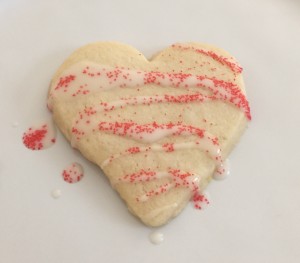 I'm not the kind of person that needs an excuse to bake something new or a holiday to feel inspired to try my hand at a special dessert but when the opportunity presents itself I love to seize it! I stumbled upon this tasty recipe, got the two thumbs up from my hubby that it sounded good and decided to give it a whirl. Definitely a different spin on traditional sugar cookies. They are a tasty treat that is almost borderline with a shortbread cookie but are so good you'll be going back for more. Give them a try and tell me what you think! (Warning this recipe does require some down time in the fridge so you'll have to plan ahead with this one.)
In one bowl combine:
2 3/4 cups all purpose flour
3/4 tsp baking powder
1/4 tsp. each baking soda and table salt.
In a second bowl beat:
1 1/4 cups sugar
2 sticks unsalted butter
1/3 cup sour cream
1 egg
1 tsp pure almond extract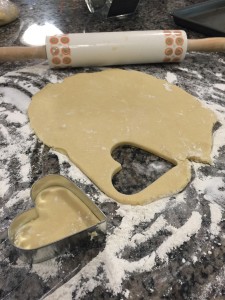 Directions:
Combine the two mixtures; beat on low speed until combined.
Divide dough into two portions.
Wrap each portion in plastic and chill several hours or overnight.
After several hours:
Preheat oven to 350.
Spray baking sheets.
Roll one dough portion on floured surface to 1/4 inch thick.
Cut out desired shapes with your choice of cookie cutters (In this case Valentine's Day hearts of course!)
Place onto cookie sheet.
Repeat with remaining dough
Bake cookies until edges are set and bottoms are golden brown (about 10 minutes).
Eat warm or cool on a cooling rack and then decorate cookies with icing & top with sprinkles!
Icing: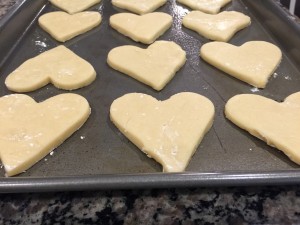 2 cups confectioners' sugar

3 tbsp. milk

1 tsp. vanilla extract to taste
Original recipe available here.