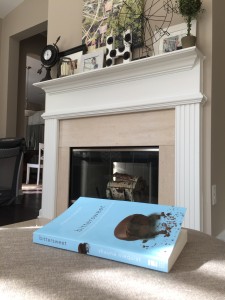 This is my reading spot. For over a year after we moved into our home I dreamt and planned the perfect spot and the perfect chair to sit and read – my own little oasis in our home. It's the perfect spot to lean back with my legs propped up, blanket snuggled around me and coffee and a good book in each of my hands (for a brief hour during nap time of course – but I'll take whatever I can get).  This morning I've found myself diving into Shauna Niequist's book bittersweet: thoughts on change, grace, and learning the hard way. A friend recommended this book to me and without knowing anything about it other than that title I instantly ordered it (thank you Amazon Prime) and dove in. I would normally wait and write a book review after I finished the book but after only a couple chapters in I couldn't resist. Over the past 8 months we welcomed our first born and joy into our home, after a 3 month (which I highly recommend!) maternity leave at home I tried to figure out the balance between work and home and being an amazing wife and mother and friend and employee (not to mention daughter, sister, boss, etc). Shortly thereafter my husband quit his job to start his own business – a personal goal and dream of his – and around the same time my boss and dear friend of 8+ years made the tough decision to move himself and his family thousands of miles away to Arizona. One of my friends and co-workers announced she was leaving and another has begun plans to follow her husband to Mississippi. To say I was experiencing change in my life would be an understatement. I was experiencing A LOT of change and with it I became beyond sad and overwhelmed by everything happening at the exact same moment in my life. So much so that it has taken me months to even begin to write about it. Life and all of its changes instantly became bittersweet.
Bittersweet is the idea that in all things there is both something broken and something beautiful, that there is a sliver of lightness on even the darkest of nights, a shadow of hope in every heartbreak, and that rejoicing is no less rich when it contains a splinter of sadness…Bitter is what makes us strong, what forces us to push through, what helps us earn the lines on our faces and the calluses on our hands. Sweet is nice enough, but bittersweet is beautiful, nuanced, full of depth and complexity. Bittersweet is courageous, gutsy, earthy…
So that is where I've found myself. Right in the middle of bittersweet. Trying to be hopeful about that sliver of lightness but still trying to find my way out of the shadows. Change had taken over and my initial reaction was to resist it, until I started to learn the hard way that I needed to embrace it.
This is what I've come to believe about change: it's good, in the way that childbirth is good, and heartbreak is good, and failure is good. By that I mean that it's incredibly painful, exponentially more so if you fight it, and also that it has the potential to open you up, to open life up, to deliver you right into the palm of God's hand…when life is sweet, say thank you and celebrate. And when life is bitter, say thank you and grow. 
And so that is why I wanted to write this post, as an encouragement for anyone going through a lot of change and wondering "how in the world am I ever going to get through this!" I'd love to encourage you to join me in reading bittersweet and then let me know what you think..until then I'm just going to stop trying to fight it and instead I'm going to choose to say thank you, and grow.